Carmel entrepreneur Grant Jenkins sees a lot of potential in trash.

The 37-year-old former banker has his eyes locked on public trash bins, those unexciting receptacles for unwanted things. They can be much more in the age of the Internet, Jenkins said, and he hopes his invention will gain enough traction to prove it.

His company is called eCeptacle and his device, the PowerBin. The self-compacting bin is about 5 feet tall, can hold three times the amount of the average public trash bin, and can transmit data to municipal and other managers about when it's full.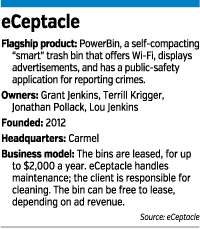 The bin can also serve as a Wi-Fi hot spot, relay information about reported crimes, and display advertisements. The sky's the limit, Jenkins said, when the Internet meets ubiquitous, low-key public wastebaskets.

"You have trash cans that have been around for 100 years and no one thinks about them," Jenkins said. "You walk past it and you don't think much of it."

Jenkins' product, which just hit the market, has already piqued the interest of the Fishers Parks and Recreation Department, the city of Evansville, the Indiana Pacers and nearly two dozen other public- and private-sector entities, he said.

And although no formal contracts have been signed, eCeptacle and Downtown Indy partnered to give the PowerBin a complimentary test run on Georgia Street for the Big Ten Football Championship Game Dec. 6.

Jenkins' product is part of a tech trend called the "Internet of Things," the idea that connectivity can enhance things historically detached from the Internet—home appliances, cars, fitness materials.

Adding digital connectivity to things doesn't guarantee entrepreneurial success, industry observers said, but some believe products like the PowerBin hold promise. Jason Kelly Johnson, president of San Francisco-based design think tank Future Cities Lab, said municipalities in particular can glean savings and other benefits from trash bins that relay data.

"With these kinds of systems, you can be much more tactical in how you service them and empty them," Johnson said. "You can learn a lot about the city by understanding how much recycling is placed in one bin."

Competition

The PowerBin isn't the first smart bin. Massachusetts-based BigBelly has its data-sharing, self-compacting trash bins deployed in Boston, Philadelphia and other major cities.

Jenkins
Jenkins said his product is different because it goes beyond waste management. It can blanket an area with Wi-Fi coverage, generate revenue from advertisements, and triangulate the location of reported crimes.

"We have two LED screens on each side of the can," Jenkins said. "So even if it's not generating revenue from the ads, it can be used for Amber Alerts, weather, directions and local artwork."

Jenkins said one of the cities he's talking with already has BigBelly receptacles.

Downtown origins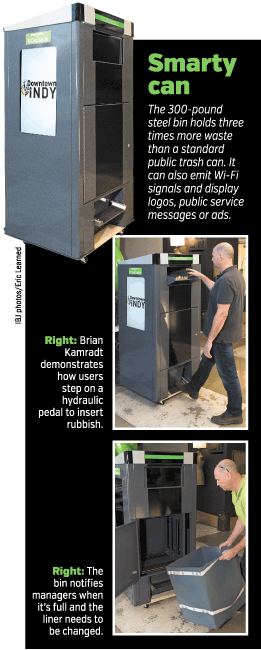 Jenkins, who previously worked for JPMorgan Chase, used to live and walk downtown. A lack of recycling bins prompted him to explore solutions, and it wasn't long before ideas sprang up about potential for the Internet.

In 2012, he quit to pursue PowerBin full time. He has two patents pending and four business partners: DePauw University buddy Terrill Krigger; attorney Jonathan Pollack; and his father, Lou Jenkins.

He spent the first year developing the concept, and beginning last December, paid Rose-Hulman Ventures to help develop the hardware and software. All told, he said, the company has spent over a "couple hundred thousand dollars."

The PowerBin is only available through lease. It costs up to $2,000 a year, Jenkins said, while similar high-end bins can cost about $4,000 to buy.

The lease price can be reduced to free depending on ad-revenue-sharing agreements, he said.

Beyond trash

eCeptacle faces several hurdles on its long road to product rollout. Marion County digital signage restrictions would prohibit ads on the side of his devices. And the company has to build a customer service team to manage client issues.

Christine Outram with Los Angeles-based City Innovation Group, another think tank, said players in the Internet of Things space at-large must undergo intensive market testing.

"There's a tendency when it comes to the Internet of Things to add intelligence to everything," Outram said. She acknowledged that while exploring possibilities is important with new technologies, "we have to make sure that this is something that is not just offering an additional feature that might be cool, but is actually responding to a human desire."

Johnson said public trash bins could be a viable channel for delivering Wi-Fi and collecting data.

"You can learn a lot about a city, its cycles of consumption, and its cycles of how space is being used simply by allowing a trash can to collect data about the city."•