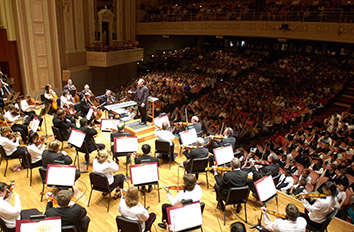 Indianapolis Symphony Orchestra's leaders played an upbeat tune Monday evening, reporting a second-consecutive operating surplus fueled by a 16-percent increase in revenue from ticket sales and a near-record year for fundraising.
At its annual meeting, ISO officials said overall ticket sales jumped 18 percent for the 2013-14 season, as subscription sales for classical, pops and family concerts rose by 30 percent and the summer staple Symphony on the Prairie recorded a 15-percent increase in ticket sales.
The not-for-profit funds its operation with a combination of ticket sales, charitable donations and income from its endowment. For the 2014 fiscal year, that added up to an operating surplus of $266,255, on total revenue of $23.5 million.
"We've got more people than ever listening to the ISO, and we're doing it all within our means," said ISO CEO Gary Ginstling.
The ISO recorded its second-best fundraising year, raking in $9.73 million in fiscal 2014 after raising $10.67 million in fiscal 2013.
The symphony also saw its endowment balloon in value, even as it drew down 5 percent for operations and an additional 1 percent for an employee pension fund, Gintling said. The ISO drew down 12 percent of its endowment in fiscal 2012.
The endowment balance stood at $92.5 million at the end of August, up from $86.5 million at the end of fiscal 2013.
The ISO operated in the red for five consecutive years before reporting an operating surplus last year.
Management achieved the turnaround by cutting the ISO's annual budget to roughly $23 million from $27 million, to compensate for a more conservative approach to relying the endowment. Musicians shouldered the brunt of the cuts, about $3 million, after contract negotiations with the musicians' union boiled over in 2012 and led to a five-week lockout.
The lockout ended after the performers agreed to steep pay cuts that mainly were derived by reducing the number of shows they were scheduled to perform. The base salary for a musician dropped to $53,000 from $78,000. Base pay rises to $70,000 in the final year of the five-year contract, a 10-percent pay cut from the previous contract.
The ISO reported subscription sales hit the highest level since the 2008-09 season, bucking conventional wisdom in the performing arts. The ISO now pushes packages all season long, repackaging and repricing them as the season progresses to maximize demand.
ISO sold more than 6,500 student tickets in the 2013-14 season, up 50 percent over the prior year and an all-time high.
Also Monday, Eli Lilly and Co. CEO John Lechleiter gave a keynote speech on arts investments in Indianapolis, and ISO announced that St. Vincent Health executive Vince Caponi will serve as its new chairman of the board.
Please enable JavaScript to view this content.