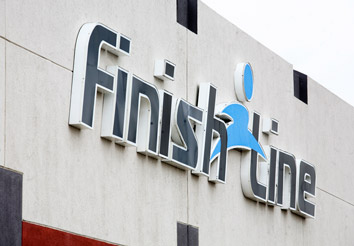 Shares of The Finish Line Inc. tumbled by about 20 percent in trading Friday morning, after the Indianapolis-based company lowered its earning outlook.
For fiscal 2015, the company now anticipates adjusted earnings to be about the same as fiscal 2014's adjusted earnings of $1.67 per share. Its prior guidance was for earnings per share to rise in the high single to low double-digit range over fiscal 2014's results.
The company blamed margin pressure and vowed to cut spending to maintain profitability.
Finish Line saw both profit and same-store sales grow in its fiscal third quarter, but one-time costs took a toll. For the quarter ended Nov. 29, the Indianapolis-based athletic apparel retailer reported a profit of $2.6 million, an increase of 11 percent from the same quarter of 2013.
Company shares were down more than 20 percent, to $22.90 each, in recent trading.
On a per-share basis, Finish Line earnings of 5 cents were flat compared with the year-ago period. Adjusted for impairment charges, store-closing costs, employee-resignation costs and a one-time tax benefit, the company lost 2 cents per share. The results fell short of the 1-cent profit analysts were expecting.
Same-store sales, a key figure that considers stores open at least a year, rose 4.5 percent.
"Third quarter comparable sales rebounded from second quarter trends, however, merchandise margin pressure kept us from achieving our profitability plan," Finish Line CEO Glenn Lyon said in a prepared statement.
Revenue grew 8.6 percent, to $395.8 million in the quarter, topping analyst predictions of $387.6 million.
Inventory increased 10.6 percent, to $398.6 million.
Finish Line operates 1,040 stores in malls and Macy's department stores and 66 Running Specialty shops.
 
Please enable JavaScript to view this content.