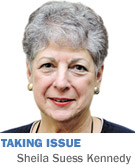 A new year brings the hope of renewal, the prospect of turning a new leaf. Most of us make resolutions—this time, we really are going to lose that weight, learn a foreign language, save more money …
What if, in addition to these individually laudable goals, we resolved to begin the hard work of repairing America's tattered political and social fabric? How might we mitigate the rancor and bad temper that increasingly characterize American society?
It's hard to escape the conclusion that fear is at the base of much of what ails us. We are at one of those times of social paradigm shift, a time when the pace of cultural and technological change has accelerated. The disorientation that such rapid change can produce (especially for Americans born in a very different time) is profound. That disorientation often expresses itself in rejection: of popular culture, of science, of "the other" (gay, atheist, Muslim, African-American, conservatives, liberals, fill in the blank), but most of all, of ambiguity.
We desperately want certainty, eternal verities, bright lines in an increasingly blurred world.
We want to know that we are right and "they" are wrong. That's only human—up to a point. But if we go too far down that road, we become Dick Cheney.
Ever since the Senate released its report on torture, Cheney has been everywhere, defending the indefensible. It's important to note that, while he has characterized the report as "crap," he has not suggested that its descriptions of "enhanced interrogation" are inaccurate. He has not denied that 26 innocent people were falsely arrested, or that one of those innocent people died.
Cheney angrily defends it all. He has expressed absolutely no remorse for any of it—not even the death of the innocent man. He insists he would "do it again." Against the evidence of experienced interrogators, he insists that the tactics worked. Against the testimony of men like John McCain, men who were themselves tortured, he justifies the use of tactics America has historically condemned.
Because he's right, and the rest of the world is wrong.
Cheney is a prominent example, but hardly alone. Belief in the absolute righteousness of one's cause—the inability to doubt, to acknowledge complexities or consider shades of gray—is what leads to tragedies like the recent shooting of two New York police officers by a gunman intent on avenging the deaths of Michael Brown and Eric Garner.
We can all come up with similar examples.
Torture and murder are extreme examples, of course. Far more widespread and corrosive is the everyday nastiness and name-calling that populates talk radio and Facebook newsfeeds, and that recently prompted a number of newspapers to dispense with the comments function on their websites.
What if Americans resolved to use the New Year to change the downward trajectory of our public discourse?
What if we confined our criticisms of the president and Congress to details of our disagreements with the particulars of their policies? What if we recognized that people who differ from us in race or ethnicity or politics are individuals, rather than undifferentiated members of despised groups? What if we resolved to entertain the possibility that people who disagree with our religious or political positions might actually be people of good will, who simply see the world differently?
What if we tried engaging in substantive discussion rather than resorting to name-calling and labeling?
It wouldn't solve all our problems, but it would be a start.•
__________
Kennedy is a professor of law and public policy at the School of Public and Environmental Affairs at IUPUI. She blogs regularly at www.sheilakennedy.net. She can be reached at skennedy@ibj.com. Send comments on this column to ibjedit@ibj.com.
Please enable JavaScript to view this content.