Accounting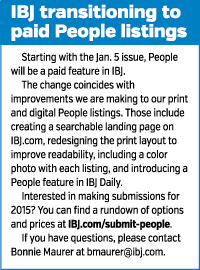 Molly Williams has joined the CFO advisory services team at ACCOUNTING. Leigh Ann Cross has joined the accounting services team.
Katz Sapper & Miller has added the following staff accountants: Andrew Browning, Andrew Fuchs, Na'Tashia Henderson, Kari Huang, Daniel Mohr, Matthew Parker, and Stephen Short, audit and assurance; Lindsay Hammond, Jordan Pfister, Ellen Smith, Ashley Standifer, and Morgan Wade, business advisory; Jaimie Bertsch, Marc Kemen, and Megan Slager, real estate; and Kate Kelly and Daniel Perry, state and local tax.
Advertising/Marketing/Public Relations
Abby Reckard has joined Well Done Marketing as a digital strategist. Josh Apgar has been named a web developer.
U/S Sports Advisors has added the following: Brent Seebohm, vice president of consulting, and Mark Edwards, director of public relations.
Bradley Miles has joined Borshoff as digital director. Jordan Hunt has been promoted to account manager, creative services.
Architecture/Design/Engineering
Bill Butz has joined Kimley-Horn, Indianapolis office, as a practice builder and site civil engineer.
Chad Smitley has joined structural engineering firm CE Solutions as a senior project manager.
Banking
Terri Gill has joined Busey as senior vice president and relationship manager.
Margo Kelly has joined Federal Home Loan Bank of Indianapolis as a portfolio project manager.
Civic/Not-for-Profit
The National Multiple Sclerosis Society, Indiana State chapter, board of trustees has added the following: Jay Brammer, Gibraltar Remembrance Services; Jeff Hudson, First Merchant's Bank; and Scott Thompson, First Person Advisor.
The Society of Indiana Pioneers, a Hoosier Heritage Society, has named the following officers: James P. Fadely, president; Charles F. Bragg, vice president/president elect, Fishers; Marcia A. Krieg, registrar; Robert H. Everitt, secretary; Bruce W. Oakley, treasurer; and Joan R. Everitt, yearbook editor. New board members are Eric Koch, Bedford; George Rapp, and Ann Boggs Bader, Oxford, Ohio.
MaryEllen Bishop and Alisa Hendrix have been named to the IU Foundation board of directors.
Services
David-Paul Morin has been promoted to director of event technology for Markey's Rental & Staging staff at the Indiana Convention Center.
Cyndi Lawson has joined Renaissance Administration as director of strategic marketing.
Erik A. Carlson has been named project consultant at Thomas P. Miller and Associates.
Mark A. Roger has been named business consultant for FranNet MidAmerica.
Jenny Banner has joined FlashPoint as consultant, and Kristin Hess has joined as associate consultant.
Dr. Riley Alexander has joined Aledo Consulting Inc. as senior health care consultant.
Technology/Telecommunications
MOBI Wireless Management has added the following: Dustin Warren, Kila Adams and Angel Croney, account specialists, operations; Hadley Green, marketing manager; Dan Chittum, graphic designer; and Tisa Smith, business development representative.
Becky Homko has joined AOTMP as business development representative.
Apparatus has added the following technical associates: Bill Jones, Joshua Chastain, Andy Eaglesfield and Michael Heath. Eric Averitt has joined in business development.
Susan Foster has joined MVDconnect as chief marketing officer.
William C. Donan has joined CuroGens Inc. as sales director.
Transportation
Celadon has promoted the following: Eric Meek, executive vice president and chief operating officer; Bobby Peavler, principal accounting officer; Leslie Tarble, principal financial officer and treasurer; Mike Pecchia, vice president of revenue accounting; Steve Boyer, controller; Kathryn Schaefer, director of finance; Ryan Scott, director of pricing; Michael Benigni, director of expedited services; Ashley (Castner) Hay, director of recruiting; Sean Stebing, manager of quality business service; Keegan McMahon, yield manager; and Laura Hawkinson, manager of team expedited; Justin Barnes, assistant planning manager; Dave Owens, manager of specialized services (extended coverage); Joseph Ushi and Ethan Sumner, assistant managers of specialized services (extended coverage); Miguel Carrillo, customer service manager (extended coverage); and Garrett Jones assistant customer relationship manager (extended coverage). Greg Aftung has been named to the driver relations team and management of the driver trainer/trainee program.
Andrew Krop has been named chief financial officer at Spot Freight Inc.•
Please enable JavaScript to view this content.