When Ashley Bryan's mother was diagnosed with Alzheimer's disease in 2011, she had to become a self-educated nurse.
She spent countless hours scouring the Internet, reading white papers before sunrise, emailing dozens of links to herself, reaching out to experts. She found herself juggling a painstaking education with a highly emotional life event, she said.

"What was very frustrating to me was that there wasn't one spot where I could go and really feel like I was learning something," said Bryan, 46. "I was finding stuff all over the place and trying to organize all of that, but my thought process was not organized because I had a lot of anxiety."

Bryan is on the cusp of launching a website and smartphone application she hopes will ease the learning curve for millions of care givers. It's called Life in the Moment and it's billed as a one-stop source for information and tools for managing Alzheimer's.

Bryan and four co-founders started Life in the Moment LLC in June 2013, but they've seen considerable traction in 2014. The company came up short of its $20,000 goal on crowdfunding site Indiegogo this spring, but it was recently accepted into a competitive San Francisco-based accelerator focused on tech solutions for elderly people.

"We had a very hard time narrowing it down," Katy Fike, accelerator Aging 2.0 co-founder, said about the 20 companies to make the cut from more than 100 applicants. "The quantity and quality of entrepreneurs in this space has increased dramatically."

Plight of care givers

Life in the Moment is the only startup in the Aging 2.0 cohort aimed at Alzheimer's, which affects 5 million Americans, or one of every nine seniors, according to the Alzheimer's Association.

That figure is expected to grow to 7.1 million by 2025. Last year, 15.5 million family and friends provided care to those with Alzheimer's and other forms of dementia, and a third of care givers reported symptoms of depression.

Bryan, a former television commercial producer, said she's encountered numerous stories of hardship related to care giving, from people having to retire early to care for an affected spouse to children having to quit their jobs and live off the Social Security of an affected parent.

Molly Godby, 39, of Zionsville, is the primary care giver for her mother, who's 74 with Alzheimer's. Her mother was diagnosed at 66. Godby said the most rewarding part of the experience has been learning the meaning of patience and unconditional love.

"The hardest part is seeing your loved one die over and over and over," said Godby, who doesn't know Bryan but appreciates her business plan.

Planned 2015 launch

The Life in the Moment platform, which is expected to launch in early 2015, has two pillars. First, Bryan said, it will be a comprehensive source of news, information and best practices, in a user-friendly format.

Second, it will have a suite of tools related to managing the lives of Alzheimer's sufferers—covering finances, legal documents and more.

Its HealthShare tool, for instance, will allow families to share information on a Web-based platform at their own convenience, and its MemoryMeals product is for guiding users in preparing brain-healthy meals.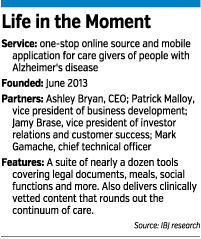 Nutritional interventions have been shown to help as much as or more than FDA-approved medications, said Chris Ochner, a health and nutrition expert at the Icahn School of Medicine at Mount Sinai in New York who sits on the clinical advisory board for Life in The Moment.

"So it's basically the best thing that we've got to combat Alzheimer's right now," he said.

Bryan conceived the idea for the company, but her mother helped name it.

In 2012, Bryan's mother, Darlene Bryan, now 71, was still able to hold some meaningful conversations. Ashley Bryan said her mother told her Ashley's anxiety about the progression of the disease was ruining the time the two had together.

"She very wisely reminded me that I had to be able to live in the moment," Bryan said. "And that is the feeling behind our brand: to help alleviate some of the stress off of these care givers so that they can remember why they love the person they're taking care of."

For-profit solution

Life in the Moment is in the midst of raising $750,000 in seed financing, expected to be complete in January. Its Aging 2.0 fellowship lasts about a year, during which time the accelerator will help it and other companies refine product development, land paying customers, and connect with potential partners.

Life in the Moment has plans for four revenue streams, though officials are still working out the kinks. They are consumer subscriptions starting at $19.99 a month, advertising revenue and, down the road, the selling of data.

The fourth stream is from other businesses, namely employers, insurers and health care providers looking to mitigate the onset and cost of Alzheimer's.

Linda Altmeyer, director of programming with the Indiana branch of the Alzheimer's Association, said she likes the concept behind Life in the Moment.

But she noted that her organization has many of those tools, and that its own mobile app is in the works.

Bryan lauded the work and resources of the Alzheimer's Association, but suggested a for-profit model will lead to a more robust set of offerings, including a premium mobile app that can address a multitude of point-in-time needs.

She said her background in broadcast production will be a strength in producing a user-friendly platform, and that the revenue generated will sustain a high-quality platform over time.

"We believe there's room in the marketplace for a for-profit company that provides management tools for the chronically ill," Bryan said.•