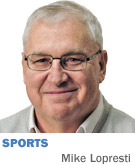 We've come to look back on 2014 in Indiana sports, but first, a nagging question about one of the year's signature moments.
Remind me again, just why did Lance Stephenson blow in LeBron James' ear?
Yes, it was that kind of year. Often unpredictable, frequently untidy, occasionally unfathomable.
Indiana University really did finish last in its Big Ten division in football, but still beat the University of Missouri team that ended up in the championship game of the mighty SEC.
The University of Notre Dame really did go from a 6-0 start and No. 5 ranking (is the playoff selection committee watching?), to a 7-5 record, having given up 30 points seven consecutive weeks for the first time in 126 years of football (welcome to the Music City Bowl!).
The state of Indiana really did fail to get one single men's basketball team invited to the NCAA Tournament last March, same as the state of Hawaii.
The year was about loss.
The Indiana Pacers lost their star. Paul George not only fractured his leg, but a nation nearly lost its lunch when it saw how it happened.
The Indianapolis Colts lost their owner, at least for the first part of the season, when Jim Irsay's personal transgressions got him sent to the NFL version of timeout.
Butler University lost its coach. We're still not sure what happened to Brandon Miller.
Indiana lost its quarterback. The Hoosiers were 3-2 when Nate Sudfeld went down, and 1-6 after.
The Notre Dame basketball women lost one game. It happened to be for the national championship: the Irish vs. Connecticut, unbeaten vs. unbeaten. Neither NCAA Tournament, be it men or women, had ever seen such a matchup of perfection before.
The year was also about resilience.
On the fourth day of 2014, the Colts fell behind the Kansas City Chiefs 38-10 in the third quarter of a playoff contest, and somehow won 45-44. "A game for the ages," Chuck Pagano called it, and not one dissenting voice was heard.
The year was about dilemma.
With just a few laps left in the Indianapolis 500, Michael Andretti looked into the eyes of the driver on his team who had the fastest car that day, Ryan Hunter-Reay, and told him to go win the race. He told him to go beat the rest of the field, which included Marco Andretti. He told Hunter-Reay to go beat his son.
Later, Hunter-Reay would do just that, not only passing Helio Castroneves on the last lap, but also barely holding off Andretti. "As a dad, disappointed. As a team owner, couldn't be happier," Michael said afterward. "You have to try to balance those things."
Just about any father could understand how hard that would be. Someone mentioned that Marco had been crushed by the defeat.
"I don't blame him," Michael said. "I know the feeling."
The year was about the anguish of almost.
The IU baseball team was two outs from winning the NCAA regional, when Stanford ended the Hoosiers' season with a two-run, walk-off homer. The dagger came against Indiana's Scott Effross—who had not allowed a home run all season.
Castroneves was three turns away from joining A.J. Foyt, Al Unser Sr. and Rick Mears on the Indianapolis 500 Mount Rushmore of four-time winners, before he was passed and beaten by Hunter-Reay in a photo finish. Later, Castroneves would say the words that could fit any year, and any pained loser, in any sport. "You can't question destiny."
The year was about frustration.
That never raged more than in Natalie Achonwa, a senior captain for the Notre Dame women's basketball team, when she blew out her knee in the regional championship game. One of the year's most endearing and emotional moments was Achonwa—realizing her career was over—screaming at her teammates to finish the job against Baylor, before limping back into the locker room and bad news from the MRI.
The year was about trouble.
As one off-court player transgression after another rattled IU basketball, Tom Crean's survival suddenly seemed to be hanging by a sneaker shoelace. But by Christmas, the bad days had begun to fade, the offense was putting up 86 points a game to entertain the masses, and a recent gritty win over Butler suggested the Hoosiers might be getting tough enough for the Big Ten ordeal ahead.
"There's no question that'll help us in a great way," Crean said of that game. "And probably pretty soon."
The year was about cruelly dashed expectations.
Butler looked forward to its Big East debut like a baritone anticipates his first performance at Carnegie Hall. Then the Bulldogs started 0-5, three of the defeats in overtime. They never quite recovered.
The year was about courage.
The purest form of that came not from a professional star or big-name college phenom, but a terminally ill teenager from Lawrenceburg, who wished only to play college basketball before facing the end stages of inoperable brain cancer. A crowd of 10,000 showed up in Cincinnati to see Mount St. Joseph's Lauren Hill score quite possibly the last points of her life. She taught us all something, the mightiest and meekest among us, with her words: "I want everybody to know I never give up."
The year was about the Pacers' playoff run, which included the Incredible Shrinking Roy Hibbert Stat Line, enough bizarre Stephenson moments to keep a battery of sports psychologists occupied and, in the end, another series loss to Miami.
"We're competing against the Michael Jordan of our era," Frank Vogel said the night of the climactic game six of the Eastern Conference finals. But things change. The Michael Jordan of our era is not in Miami, anymore, and the Pacers are in 11th place in the East.
The year was about an NFL team with a split personality. One moment, Andrew Luck and the Colts offense would be putting up historic numbers. The next, the defense would be giving up 51 points to Pittsburgh and 42 to New England and Dallas. The result was a 4-5 showing against teams who went into week 17 with a winning record.
It was about Arsenal Technical High School as the first Indianapolis Public School to win a state boys basketball championship in 34 years. After which, star Trey Lyles left to join John Calipari's platoons at the University of Kentucky.
And Jeff Gordon winning the Brickyard 400 for the fifth time.
And Purdue University losing to Central Michigan University in football and the University of North Florida and Gardner-Webb University in basketball.
And IUPUI moving its basketball schedule to the renovated State Fairgrounds Coliseum, then having three of its first five home games go overtime.
In the end, 2014 was about not only the present but also the future, for it provided questions that 2015 will have to answer.
Will the Colts be as vulnerable in January crunch time as they looked Dec. 21? Do the Pacers somehow slip into the playoffs in the forgiving East? Is Butler now fully armed for the Big East, and while we're on the subject of the Bulldogs, who will be coaching next season? Is Crean now safe? What has happened to Purdue's marquee sports, and can Matt Painter or Darrell Hazell do anything about it?
As 2014 fades, should old acquaintances be forgotten? In the keeper photo, Stephenson will forever be blowing in James' ear. But Lance is in Charlotte now and LeBron is in Cleveland. It's a new year.•
__________
Lopresti is a lifelong resident of Richmond and a graduate of Ball State University. He was a columnist for USA Today and Gannett newspapers for 31 years; he covered 34 Final Fours, 30 Super Bowls, 32 World Series and 16 Olympics. His column appears weekly. He can be reached at mlopresti@ibj.com.
Please enable JavaScript to view this content.