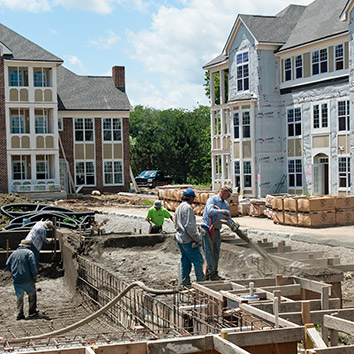 Apartment construction downtown and on the north side continued its rapid pace in 2014 as occupancy remained strong.
About 4,200 new units came online in Indianapolis, with the vast majority, or more than 3,500 of those, built in those two markets, according to apartment broker Tikijian Associates.
Downtown led the city in occupancy for the fourth consecutive year. The 2004 rate, 95.2 percent, represented a slight drop from 2013's 95.4 percent. The northern submarket's rate this year was 93.5 percent, unchanged from 2013, Tikijian said in its annual overview of the local apartment market.
Some of the downtown apartment projects finished in 2014 included 800 N. Capitol, Artistry and the first phases of Circa and Millikan on Mass. On the north side, they included Ironworks at Keystone at the Crossing, and in the northern suburbs, Union Street Flats in Westfield, and Cumberland Pointe (phase two) and Watermark on Cumberland in Fishers.
"The solid performance of these two high-occupancy submarkets, in spite of the delivery of a significant number of new units within those markets, is proof that increased development has to date had little, if any, impact on occupancy," the Tikijian report said.
Downtown led all submarkets in rent growth, with a 3.8-percent increase. Rents there average $1.19 per square foot, an all-time high, according to Tikijian. Average rent for a two-bedroom, two-bath apartment downtown is $1,342 per month.
Perhaps the most interesting project to open in 2013 was the conversion of the old Bush Stadium on West 16th Street into Stadium Lofts. The second phase, Stadium Flats, was built on the old stadium property and also opened this year.
Explore all of our 2014 Year in Review coverage.
Please enable JavaScript to view this content.