Back in 2008, Miller Pipeline of Clermont saw the new-home construction market dying and the shale-oil industry taking off.

Executives of the business, owned by the Evansville-based gas utility Vectren, wanted in on the boom. Three years later, they acquired a 500-person firm in Minnesota that put them into North Dakota's Bakken formation in a big way.

Miller Pipeline has seen its head count grow from 1,700 to 3,600, partly because the company had so much work building pipes to gather gas and oil flowing from thousands of wells. The question now is whether Miller played too heavily into the shale boom.

"Recently, the price of oil's got everybody wondering how long the boom will last," Miller Pipeline President Doug Banning said. "We believe we're in it for quite some time."

Even if he's wrong, Miller has a solid fallback in his company's other growing business, which is worlds apart from fracking shale. Natural gas utilities across the country must replace thousands of miles of World War II-era pipes, a process that will cost billions and could take decades.

Vectren, though, is confident both lines of work will continue, and raised the 2015 revenue-growth forecast for its non-utility businesses from 10 percent to a range of 12 percent to 15 percent. Vectren doesn't break out earnings for Miller Pipeline alone, but it is by far the largest of the company's non-utility businesses.

Vectren's non-utility earnings grew in the third quarter ended Sept. 30 to $23.7 million, or 29 cents a share, up from $17.5 million, or 21 cents a share, in the prior year. Meanwhile, its utility group reported a slight drop in earnings.

Infrastructure services, the business for which Miller is Vectren's flagship, had a $625 million work backlog.

Banning
Most analysts are expecting capital spending around shale to decline along with oil prices, Morningstar utilities and energy analyst Charles Fishman said, but it's true that pipeline replacements will go on for the next 15 years or more.

Vectren itself is spending $650 million on pipe replacement in its territory across the middle of Indiana. Miller works for its parent company, as well as gas utilities across the country.

Pipeline safety was the focus of federal regulations passed in 2002 and 2006, but deadly explosions since those laws were passed brought more attention to the age and condition of the network.

In 2010, a 30-inch, high-pressure main in San Bruno, California, exploded and killed eight people. That prompted a third round of regulation, which expanded the federal government's enforcement powers and focused on the replacement of cast-iron pipes.

As recently as last year, a gas leak in East Harlem, New York, led to the explosion of two apartment buildings, killing eight people.

Utilities began pipeline replacement well before the San Bruno explosion, but regulators are still approving new programs. NIPSCO, for example, had a $700 million pipeline replacement plan approved by the Indiana Utility Regulatory Commission in August.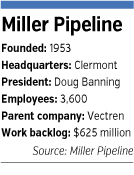 Most utility companies don't do their own pipeline work, much less try to harness the business as a growth driver. Utility managers know their way around the regulatory system, Fishman said, but, "It's a different job than running a construction company."

Vectren's strategy seems to be to leave management teams in place. Banning has spent his 30-year career at Miller, which was acquired by a joint venture of Vectren and Duke Energy in 2001 and became wholly owned by Vectren in 2006.

The company was founded in Ohio in 1953 but moved to Indianapolis in 1961 after installing pipeline for the then-new town of Clermont. Miller stayed in the area with Citizens Energy Group as a major client.

Under Vectren's ownership, Miller has bought small family-owned pipeline companies in Indiana, Illinois and South Carolina to expand its geographic presence, which covers the Great Lakes, East Coast and South, Banning said.

"We can bring in some talent on how to grow the business, systems that help them grow the business and execute the business," he said.

The acquisitions give Miller access to new customer bases, as well as available, qualified labor, which is in short supply in the industry. Working on pipelines still involves standing in cold, muddy trenches in all kinds of weather. It's also a highly specialized and regulated industry.

As Banning said, "You can't just take somebody off the street and run them through a couple of classes."

While Vectren's management is excited about the prospects for its infrastructure services group, analysts seem lukewarm. In a December industry note, Keybanc analysts rated Vectren a "hold," and said they awaited more detail from the company on its exposure to the shale industry.•