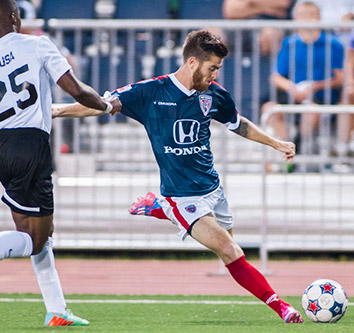 Even if the Indiana General Assembly approves a funding mechanism for a proposed $87 million downtown soccer stadium for the Indy Eleven—which is no sure thing—hurdles would remain.
For starters: where to build it.
Developers think one logical spot for the 18,500-seat open-air venue is a stone's throw from Lucas Oil Stadium—not far from the General Motors stamping plant, which team owner Ersal Ozdemir unsuccessfully proposed to redevelop. The city plans to build a criminal justice center on the site, and a private developer has proposed a concert venue.
Notably, a 10-acre parcel very near Lucas Oil Stadium is on the market with an asking price of $5 million. The property is owned by Minneapolis-based Valspar Corp., which has held the land since its 2000 acquisition of Lilly Industries Inc. The operations there have been closed, and the facilities demolished.
The vacant parcel—primarily a mix of striped parking and raw lots—is bounded by McCarty Street to the south, Merrill Street to the north, West Street to the east and Kentucky Avenue to the west. Valspar officials did not return calls seeking comment.
 
Wilt
Indy Eleven General Manager Peter Wilt said the team has plenty of options for a stadium, all downtown. Team officials have said they need 10 acres for a stadium and more space for parking. Talks with property owners are ongoing.
"There are multiple potential locations on the table," Wilt said.
A handful of sites in or near downtown would be suitable, said Abbe Hohmann, president of locally based Site Strategies Advisory LLC.
"There are a number of possibilities, but they might have to look at a radius two miles out from Monument Circle," said Hohmann, who is not involved with the Eleven's project. There are some parcels near Lucas Oil Stadium "that might make some sense," she added.
But before settling on a location, the team has to convince lawmakers to support a bill by Rep. Todd Huston, R-Fishers, that would fund construction.
Huston, who plans to file the bill by Jan. 12, said a stadium for the North American Soccer League team would provide an economic boost for the city of Indianapolis and surrounding region—including his hometown.
"I have a very young, active community that has a great interest in youth sports and soccer," Huston said. "Additionally, Fishers is strengthened by having a strong Indianapolis. A strong core of Indianapolis is good for my community and the entire state."
Skin in the game
Questions persist about where the Eleven will find at least 10 acres downtown and whether a 10-percent ticket tax from events held at the venue will be enough to pay—over 30 years—for bonds let to pay for construction.
A new study commissioned by the Eleven and conducted by locally based KSM Consulting should answer some of those questions, Huston said.
"I've read the report, and they're coming back with more conservative projections," Huston told IBJ.
But Huston added that, right now, the Eleven's proposal is close to the one eventually shelved by the Senate last year. One thing Huston would like to see is the Indy Eleven putting some of its own cash toward the project.
Later this month, after working with other state lawmakers, Huston said, he'll likely have an amended bill to submit to the House Ways and Means Committee.
Rep. Tim Brown, chairman of that committee, said he is keenly interested in how the bonding for the project is structured.
"I don't like debt and this bill would contain bonding through the [Capital Improvement Board], so we have to be sure it's set up so those bonds can be covered," said Brown, R-Crawfordsville.
Eleven officials are proposing that the stadium be owned by CIB. But city officials said they've had little contact with the team and have no information on where the stadium might go.
"Indy Eleven's success last year meant great things for our local businesses and soccer fans throughout Indiana. We look forward to sitting down with its leadership and looking at their financial reports and projections," CIB President Ann Lathrop said in an email response to questions about the project.
More than soccer
Paul Okeson, vice president for Keystone Group, said the bond repayment calculations were made projecting ticket revenue from Eleven and non-Eleven events that would be held at the stadium. Keystone Group is owned by Ozdemir.

Ozdemir
"Our proposal is one where, if you don't go [to the new stadium], you don't pay," Okeson said. "We're not just talking about Indy Eleven games. There are plans to bring a lot of other events to this venue."
It's unclear how many events the stadium would be able to attract. Efforts to bring music events to Major League Soccer facilities in Chicago and Columbus, Ohio, have proven challenging.
The most either stadium has been able to bring in during a single year since 2012 is 12 days of music events. Event promoters add that expenses for changing such a venue from soccer to concert mode eats into overhead considerably.
The Eleven currently play 14 home games annually and last season—its first—the team led the North American Soccer League in average attendance, at 10,465 per game. Team officials said that's the maximum number of tickets they could sell, based on space at the team's temporary IUPUI campus home.
"I think we demonstrated there's a need and a void in the market by selling out every game we had," said Indy Eleven's Wilt.
The team was able to achieve its success, Wilt pointed out, while playing in a venue with no permanent concession stands and few bathrooms. The Eleven had to bring in portable bathrooms, concession stands and merchandise booths.
"We think with better amenities and with a more central location downtown, we're going to be able to draw bigger crowds, generate more revenue, and drive more economic impact for the city and region," Okeson said.
Eleven officials also think they'll be able to draw local, regional, national and international soccer matches to the venue—which will boost its financial viability. They declined to project attendance or revenue for the facility, which they hope to open by 2017.
GM site slipped away
Last year, Keystone Group lost to REI Investments Inc. on its bid to develop the GM plant site.
REI plans to build a $40 million, 10,000-seat outdoor music venue, and REI officials said there is no thought of partnering with Keystone on a multipurpose venue suitable for soccer and music.
No matter the location, a second new downtown venue raises the question of whether Indianapolis can support both, along with CIB-owned Bankers Life Fieldhouse and Lucas Oil Stadium.
Rep. Brown said he expects state lawmakers to have an interest in the stadium's location, but "we don't want to micromanage that process. In the end, this is a local project."
"I think as we work through this process … we'll get to a point of having a pretty good idea where the location will be," said Huston, the funding bill's sponsor. "But before we get to the location, we have to make sure the funding and economic model works."•
Please enable JavaScript to view this content.