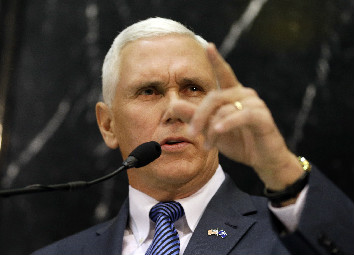 In his third State of the State address, Gov. Mike Pence called for a balanced budget amendment that he says will protect Indiana from a possible economic downturn and will show Hoosiers their tax dollars are being spent wisely.
The proposed amendment—authored by Sen. Brandt Hershman, R-Buck Creek—will prevent the state from allowing recurring state spending from exceeding projected tax revenue.
"A balanced budget requirement in the constitution will assure Hoosiers that today and tomorrow Indiana will spend wisely, protect our state from an economic downturn, and unlike Washington, D.C., we won't bury our children and grandchildren under mountains of debt," Pence said during his speech Tuesday evening.
But Pence officials acknowledged the language for the amendment has not been finalized. Therefore the final proposal could mean a big change for Indiana budgeting—or virtually no change at all.
Democrats expressed confusion as to why a constitutional amendment requiring a balanced budget is necessary and said Pence, a possible presidential candidate, might be playing to national voters with the plan.
"That sort of came out of left field," State Budget Committee Member Sen. Karen Tallian, D-Portage, said. "I can't believe that of all the things that we have to do that he's asking for a constitutional amendment for a balanced budget. It just seems like a red herring because we haven't had a problem."
"Every person in here is for a balanced budget," said House Minority Leader Scott Pelath, D-Michigan City. "We've all voted for balanced budgets. We support them. We even already have a requirement in Indiana's constitution that we incur no debt for operating expenses."
Indiana is one of seven states—including Alaska, Arkansas, Mississippi, Vermont, New Hampshire, and Washington—in the nation that does not have a requirement for a balanced budget in its constitution.
Currently, the Indiana Constitution only restricts the state from contracting any debt, except to "meet casual deficits in the revenue; to pay the interest on the State Debt; to repel invasion, suppress insurrection, or, if hostilities be threatened, provide for the public defense." The proposed amendment would not, however; prevent the state from using money in its reserves to pay for one-time expenditures.
The recommended constitutional amendment comes roughly a decade after state officials were forced to dip deep into reserves and even delay payments to schools, local governments and institutions of higher education.
In order for the amendment to become constitutional law, it must pass two separately elected general assemblies and then be passed by the majority of voters in a general election—making 2018 the earliest the amendment could be seen on a statewide ballot.
Indiana does have a history—at least in recent years—of passing balanced budgets in the General Assembly.
Although the governor's proposal incited a round of applause and standing ovation from most of the crowd in attendance, fiscal analysts are not sure the constitutional amendment is actually necessary.
John Ketzenberger, president of the Indiana Fiscal Policy Institute, said he's seen nothing for decades that "indicates the Legislature is out of control and needs to be constrained by a constitutional amendment."
"The whims of the Legislature ebb and flow from time and time, but one thing is pretty constant: Hoosiers—and it's reflected in the General Assembly—are pretty conservative fiscally, he said. "Every June 30, the books are squared and the state has impeccable credit because it meets its obligations already."
He also said a constitutional amendment will make it more difficult for lawmakers to maneuver—in good times and bad. The exception, he said, would be if the proposed language provides caveats allowing unbalanced budgets in special situations.
"And once you start accepting areas of spending, you've really nullified the purpose of the amendment," Ketzenberger said.
In addition to discussing his plans to make a balanced budget a constitutional requirement, Pence spoke about his attempts to establish the Healthy Indiana Plan 2.0—billed as a "consumer-based" program that would expand on the current Healthy Indiana Plan established by former Gov. Mitch Daniels.
"To get Washington to say 'yes' (to HIP 2.0), I have gone to our nation's capital, engaged in hours of discussions with federal officials, and I even took our case directly to the president on the tarmac outside Air Force One in Evansville," Pence said.
HIP 2.0 would increase the number of low-income Hoosiers covered by the program, and is currently awaiting approval from the federal government.
In his speech, the governor also referred to portions of his budget proposal—delivered to the State Budget Committee exactly one week ago. Education funding rose to the top as the governor's fiscal priority for the next two fiscal years.
"Let's agree here and now that this will be an education session dedicated to improving all our schools for all our kids," Pence said during his speech. "Balanced budgets and the right priorities are the starting point to improving our economy, but the key to unlocking the full potential of our state is not in her factories and her fields. It is in her classrooms."
Pence has proposed providing an additional $63 million in teacher performance funding grants and $20 million each year for expanded career and vocational opportunities. Along with increasing overall funding for education by about $600 million over two years, Pence said he is dedicated to enrolling 100,00 more students in high-quality schools by 2020 and is devoted to providing school choice for Indiana's young students.
The governor also called for fiscal responsibility, a simplified tax code, and a commitment to an "all-of-the-above energy strategy."
Pence closed by telling Hoosiers and all those in attendance that he believes Indiana's future is bright.
"With boundless faith in the people of Indiana and faith in God's grace to see us through, I know the best days for Indiana are yet to come," Pence said. "Let's get to work."
Please enable JavaScript to view this content.