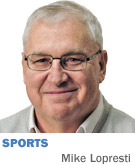 Time never loses. Time never even blinks. Time is faster than Usain Bolt and more merciless than a Mafia hit man, or maybe you didn't notice how old Peyton Manning looked throwing incompletions against the Colts.
Time constantly rearranges the furniture—sometimes for the good, sometimes not. You can see it everywhere. Look what time has done in just one year, especially with a certain professional basketball team that plays on Pennsylvania Street. Then is mid-January 2014. Now is mid-January 2015.
Then: The Pacers near the halfway point of the NBA season with a 33-7 record. The signature stat is 20 victories by double digits.
Now: The Pacers near the halfway point with a 15-25 record. The signature stat is eight losses in 10 games decided by three or fewer points.
Then: Everybody is chasing the Deep South in college football. Especially Nick Saban.
Now: Everybody is chasing Ohio State in college football. Urban Meyer is turning into Nick Saban.
Then: Jim Harbaugh has the San Francisco 49ers on the cusp of another Super Bowl.
Now: Jim Harbaugh introduced as new coach at Michigan.
Then: Everyone is asking, is Peyton Manning ageless?
Now: Everyone is wondering, is Peyton Manning finished?
Then: On Jan. 14, Pacers win to guarantee Frank Vogel will be coaching the Eastern Conference in the All-Star Game. "This is recognition of our team's success," he says.
Now: On Jan. 13, Pacers lose to 5-31 Minnesota, three days after losing to 6-29 Philadelphia. "It's no fun losing to teams with poor records. It's no fun," Vogel says. "But it's a long season. We believe in what we do. We believe in who we have in the locker room."
Then: Are the Cubs already doomed for another season?
Now:  Can the Cubs go to the World Series?
Then: New Butler coach Brandon Miller can't catch a break in the Big East. He won't win his third league game until March 6.
Now: New Butler coach Chris Holtmann gets his third Big East victory on Jan. 13.
Then: James Blackmon Jr. and Robert Johnson are in high school. The Indiana Hoosiers are on the way to finishing tied for 132nd in the nation in scoring.
Now: Blackmon and Johnson are in Bloomington. The Hoosiers are 13th in the nation in scoring.
Then: The Pacers' lineup is the model of stability. Frank Vogel will need only five different starting combinations all season. The joys of good health.
Now: The Pacers lineup looks like a bus station. Eleven different guys have started a game. The result of a broken right leg, strained left groin, sprained left ankle, sprained right ankle, sore right calf, bruised left knee, bruised right foot, sore left foot, torn left plantar fascia, migraine, sinus infection, knee contusion, upper respiratory infection and a partridge in a pear tree.
Then: Colts are still hoping Trent Richardson can become the weapon worth the first-round pick they traded away.
Now: Trent Richardson on inactive list against Denver. 
Then: Early thoughts on NBA Finals contenders. Nobody, of course, mentions the Atlanta Hawks, who have not been to one since 1961, nor the Golden State Warriors, who last made it in 1975.
Now: Introducing your No. 1 seeds in both conferences if the season ended today, the Atlanta Hawks and Golden State Warriors.
Then: Notre Dame eagerly awaits return of Everett Golson at quarterback.
Now: Reports have Everett Golson, benched late in the season, considering a transfer.
Then: Pacers are 21-1 in Bankers Life Fieldhouse through Jan. 18. They've already clinched an NBA-leading 25th consecutive season with a winning record at home.
Now: Pacers lose to last-place Minnesota to drop to 8-10 at home.
Then: Cardale Jones, unknown third-string Ohio State quarterback.
Now: Cardale Jones, possible gubernatorial candidate for the state of Ohio.
Then: Pacers lose for the eighth time all season. George Hill tells the media nothing is missing. "We spoil you guys with great defense. So when [we] do have a bad game, you think the world is going to end."
Now: Pacers lose for the fourth time in 10 days. Solomon Hill tells the media he doesn't know what is missing. "If I knew, I'd definitely try to get it back. But I don't even know what we're missing. It's just out there. We have to find something, and we still haven't found it."
Then: Donald Sterling owns the Los Angeles Clippers. So what?
Now: You know the rest.
Then: Likely that the Pacers and Miami Heat will fight it out for the No. 1 seed in the Eastern Conference.
Now: Possible that the Pacers and Heat will fight it out for the last spot in the playoffs.
Then: If the Colts get far enough in the postseason, the New England Patriots are always in the way.
Now: If the Colts get far enough in the postseason, the New England Patriots are always in the way.
Well, time doesn't change everything.•
__________
Lopresti is a lifelong resident of Richmond and a graduate of Ball State University. He was a columnist for USA Today and Gannett newspapers for 31 years; he covered 34 Final Fours, 30 Super Bowls, 32 World Series and 16 Olympics. His column appears weekly. He can be reached at [email protected]
Please enable JavaScript to view this content.