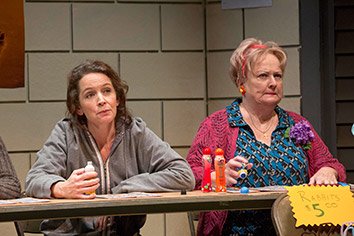 As one of the most popular plays in regional theaters around the country right now, David Lindsay–Abaire's "Good People" might seem a safe choice for the Indiana Repertory Theatre's "serious new play" slot.
I'm happy to report, though, that this play isn't so safe. It's funny. It's exciting. It's thought-provoking. It's clear. But it certainly doesn't pander to its audience. While other, supposedly edgy plays often just reinforce what audiences know and believe, "Good People" prods viewers to a more challenging place. Even if they may not be comfortable admitting it, more than a few IRT regulars surely drove home wondering if, but for a stray piece of peanut brittle or a father's watchful eye through a window, their lives might have been very different.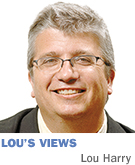 As "Good People" opens, Margie (Constance Macy) is getting her walking papers from her job at a dollar store. We're in South Boston, the hardscrabble neighborhood where Margie grew up and never left. The options for Margie—who has an adult special needs daughter and a tenuous apartment—seem limited-verging-on-nil. That is until she finds out that a former boyfriend from the neighborhood (Sean Patrick Reilly), whom she hasn't been in contact with in decades, is now a wealthy doctor. With no other ideas about gaining employment, she treks to his office to ask about a job.
What follows is exciting in a way that too few plays are. Action stems from truthfully drawn core characters who aren't just in conflict because the author wants them to be. Instead, sparks fly because their different experiences—the lives they've led, choices they've made, and ways they've opted to remember and/or forget their pasts—actually conflict. And there's something at stake here, something big, in Lindsay-Abaire's finely tuned play.
At stake is a core tenet of the American dream (or American myth, depending on your perspective): the idea that success in life happens in direct proportion to nose-to-the-grindstone work. Most of us have grown up on it. Sure, we as a people seem to love it when the rich stumble, but in our hearts we seem to carry the assumption that those who made it were somehow deserving—they were smarter, they worked harder, and/or they made fewer dumb choices than the rest. What's left if we don't believe that America is a meritocracy?
"Good People" challenges that idea not by creating a position paper peopled by, say, an evil millionaire and a noble pauper. Instead, it puts complex people with skin in the game at the center of a compelling dramatic situation. Who's "good people"?
Ah, that's the question. And the IRT has smartly cast the leads with Macy, Reilly and Nicole Lewis—as the doc's wife—offering finely tuned, in-the-moment performances that keep the answer to that question in flux. These talents reveal character not just in what they say and do, but in, for instance, Macy's pigeon-toed stance, Reilly's quick smile that masks his discomfort, and Lewis' upbeat-but-careful tones.
A clunky set whose changes slow down the action (the audience when I attended offered play-ending applause during what turned out to be a transition), accents that occasionally seemed worn rather than lived, and distractingly recorded off-stage voices are small complaints for an otherwise far-better-than-just-good production.•
__________
This column appears weekly. Send information on up-coming arts and entertainment events to lharry@ibj.com
Please enable JavaScript to view this content.