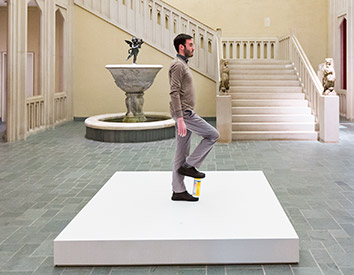 Empty platforms. Instructional drawings. Everyday objects. In "Erwin Wurm: Euclidean Exercises" (through June 21 at the Indianapolis Museum of Art), the artist's "One Minute Sculptures" prompt visitors to stand on the platforms in prescribed poses with such objects for at least 60 seconds.
The result is, well, curious.
On opening night, after hearing Wurm discuss the work and watching others participate in the experience (including witnessing Tricia Y. Paik, the IMA's curator of contemporary art, being lifted by various folks onto one such platform), I found myself mentally wrestling with the exhibition. I could try to force the two sides into one compromised view. Instead, I'll just let you in on my internal debate.
Lou 1: Hmmm.
Lou 2: Interesting.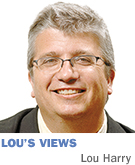 Lou 1: "The Emperor's New Clothes" comes to mind. So does Tom Sawyer getting other people to whitewash the fence.
Lou 2: You have something against interactivity?
Lou 1: I have something against no "there" there.
Lou 2: There most certainly is something there—something akin to the Buddhist sand mandalas that are created and then disappear. It's art freed from commerce.
Lou 1: It's art freed from sense. The mandalas require skill.
Lou 2: You aren't going to launch one of those "A 5-year-old-can-do-that" argument, are you?
Lou 1: No. I just don't see what's creative about asking someone to lie on a beam for a minute.
Lou 2: Does the idea make you uncomfortable?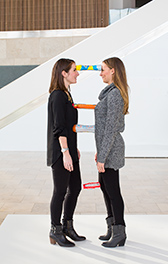 Erwin Wurm's One Minute Sculpture, "Organization of Love," demands two-person interaction. (Photo courtesy of Erwin Wurm)
Lou 1: People's actual reaction to it seems to undermine the ideas behind the work—at least tonight. "Are you going to do it?" "Are you?" It makes me uncomfortable watching people look at art as an opportunity for exhibitionism. These people don't seem to be thinking about the work or its implications as art. Instead, they are wondering what people will think of them if they do it or don't do it. They're thinking about how they are being looked at and how they are looking at others.
Lou 2: A significant artistic response, I think.
Lou 1: Why?
Lou 2; Shouldn't art challenge you to look at things, including the human body, in different ways? That might have been one of the points of the creation of sculpture in the first place—to try to give permanence to something that is inherently temporary. We all have a limited time here. Wurm seems to be calling attention to that by having the sculptures exist only briefly.
Lou 1: Wurm doesn't seem to be doing much of anything.
Lou 2: No artist does much of anything once the work is created.
Lou 1: OK, but look at those people on the platform. Are they really participating in art? Can you have an artistic experience while giggling?
Lou 2: Of course you can. But I'm less concerned with what they are experiencing than in what I am experiencing watching them. That seems to be part of the point.
Lou 1: And what are you experiencing?
Lou 2: I'm asking myself questions about the temporary nature of artwork. How it all, eventually, disappears or at least changes, no matter how hard we try to preserve it.
Lou 1: And why can't you have that same experience on any given street corner, watching mortals walk by?
Lou 2: You can. But you probably won't. Putting anything in an art museum focuses our attention on it.
Lou 1: So are you going to get up on a platform?
Lou 2: I don't need to.
Lou 1: I dare you.
Lou 2: Stop.
Lou 1: I double dare you.
Lou 2: OK. But I'm going to do one in the Clowes Pavilion rather than in the museum entry.
Lou 1: Because nobody is around, chicken?
Lou 2: No, because I'm not interested in exhibitionism or performance but in experiencing the … experience.
Lou 1: A minute ago, you said it was about the viewer, not the active participant.
Lou 2: First of all, viewing, in this case, is a kind of active participation. Second, the work exists on multiple levels. My experience of the work, I expect, will be different when I am a more immediate part of it.
(A minute later)
Lou 1: So how did it feel on a platform with a plastic Lysol bottle between the toes of one foot and the heel of another?
Lou 2: It was awkward. Even in an empty gallery, I was self-conscious. I was aware of the rest of the artwork around me and my piece in the design of the room. All I wanted to do was get off of there as quickly as possible.
Lou 1: But was it art?
Lou 2: Good question.•
__________
This column appears weekly. Send information on upcoming arts and entertainment events to lharry@ibj.com.
 
Please enable JavaScript to view this content.