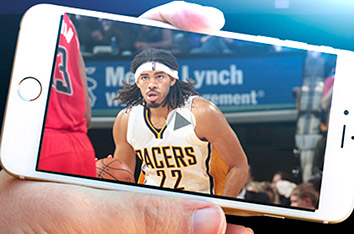 For many Indiana Pacers fans, there's a new way to watch the games.
This season, Fox Sports Indiana started live streaming home and away games—as well as pre- and post-game shows—to mobile devices.
Pacers officials are hopeful the viewing option will grow the team's fan base and increase ticket and other sales. Fox Sports executives are optimistic it will increase advertising revenue.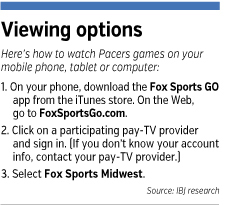 The Fox Sports Go app is available free at the iTunes store, and if Fox Sports has cut a deal with your cable provider, you can get the games on the go for free—or at least at no additional charge to your cable subscription.
There's only one hang-up.
While Fox Sports has reached deals with AT&T Uverse, Mediacom, Time Warner Cable and Wow! cable TV providers, it hasn't yet with central Indiana's two biggest cable providers: Comcast and Bright House Networks. Nor with DishTV or DirecTV in this market.
"Those talks are ongoing," said Fox Sports Indiana General Manager Jack Donovan. "We're optimistic a deal will get done with those providers soon."
Meanwhile, Fox Sports and the Pacers have started promoting the viewing option. The Pacers recently began running in-arena ads at Bankers Life Fieldhouse and ads on their website and through social media and direct email to ticket buyers. Fox Sports is promoting its app and live streaming during Pacers games and other sporting events.

Donovan
Officials for Fox and its regional cable channels launched mobile streaming of sports events last year. They have widened that this year to their regional sports networks, including Fox Sports Indiana, which airs the majority of Pacers games.
The move is good for Fox Sports in a number of ways. First, it gives cable providers one more reason to carry Fox channels in their lineup.
It also gives Fox leverage to broker better rights-fee deals with sports teams and gives it something more to sell to advertisers.
Teams are clamoring for as much fan exposure as possible. Live game-streaming gives them one more avenue to reach fans.
For now, Fox is running the same ads through the mobile feed as it does on television. If viewer numbers are significant through mobile devices, that could allow Fox to bump up its ad rates.
Or, the network could choose to sell separate ads for the mobile feed.
"We certainly have the capability to sell digital-only ads," said Clark Pierce, Fox Sports' senior vice president of mobile and advancement platforms. "That's a business decision that will have to be looked at. But I think down the road we'll see more digital sales."
"With digital advertising, you can achieve a level of interactivity that's just not possible with TV or radio," said Larry DeGaris, director of academic sports marketing programs at the University of Indianapolis. "For one, you can link straight to the opportunity to purchase, and that's big. You can certainly charge more to advertisers to provide that level of interactivity."

Bryant
Bruce Bryant, president of locally based Promotus Advertising, said he wouldn't "place much value" on ads that appeared only on Pacers live streamed games—yet.
"I would have to see the numbers," Bryant said. "For most of my clients, I'm not convinced there are going to be enough viewers to warrant a stand-alone buy."
But as a complement to a TV ad purchase, Bryant said, "It's a great value add."
"You're reaching a young, educated and tech-savvy audience," he added. "Obviously, as this type of viewing grows—and I think it will, the value of this exposure grows."
Pacers games on Fox Sports Indiana this season are averaging a 2.8 household rating, according to New York-based Nielsen Media Research.
That means about 30,000 households are tuned into each game. That's on track to be Fox Sports' second-best rating in the last nine seasons, behind only last season.
Network officials declined to reveal how many people are watching Pacers games via mobile phone or tablet, but media experts estimate the number at a few hundred to a couple thousand. That would likely grow significantly if Fox finalizes deals with Comcast, Bright House, DishTV and DirecTV.
"The audience may not be there now, but as more people grow up with this technology and the technology matures, it will be," DeGaris said. "With regards to sports, digital has the potential to be a big revenue stream, so I think Fox is making a smart move here."
Fox is already considering adding features to the digital stream, including the ability to choose from multiple camera angles and access views of the arena not available through the conventional TV broadcast.
"A lot of people would be attracted by those types of options," DeGaris said.
The NBA, which, according to Nielsen viewer data, has the youngest fans of any major U.S. sports league, has been encouraging its broadcast partners to push programming to mobile devices. That effort got a jump start last season when the league dropped its demand for a streaming fee of $3,500 per game from broadcasters.
Last season, six of 17 Fox regional sports networks with deals to broadcast NBA games started digital mobile broadcasts for a limited number of matchups. This year, all 17—including Fox Sports Indiana—are digitally streaming all games they air on TV, and are substantially bulking up marketing muscle to promote the offering.
For the Pacers, Fox's move appears to be a win-win. Team officials are convinced it will not hurt TV viewership nor live attendance.

Laycock
"We have data that shows fans that watch more games [on TV], attend more games," said Rob Laycock, Pacers vice president of marketing. "This is another touch point for fans, so it's great for us."
Laycock pointed out that it's a great way for fans who are out of town or college students who live away from the area to stay connected to the team.
But, he noted, the Pacers are reaching more fans of all ages through the digital stream.
"My grandma uses this app—probably more than anyone," Laycock said. "It's not just for young people. It's so easy to use, we're getting people from a wide spectrum."
Fox Sports' Pierce said the network is closely monitoring Pacers' fans viewing habits. He said the early numbers show that people are streaming the games on mobile devices when they can't access their TV.
"You're not going to choose to watch the game on a phone over a flat-screen TV," Pierce said. "But people may start tuning in when they're at work late or at their kid's sporting event. Then when they get home, they turn on their TV."•
 
Please enable JavaScript to view this content.