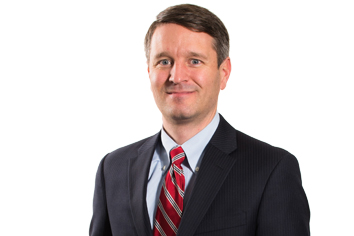 partner, Bose McKinney & Evans
Not talking trash: At age 6, David Duncan watched the garbage being collected in front of his house and told his mother he wanted to be a trash man or a lawyer. "I have no idea why," he said, but opted for the second choice, attending the Indiana University Robert H. McKinney School of Law to follow up a degree in business process management from IU's Kelley School of Business.
Out of court: At Bose McKinney & Evans, Duncan concentrates on business services, including real estate. "It's a relationship business," he said. "The clients I get to interact with want to get financing or to get something built. I see tangible results and that's so rewarding." He added, "I'm not a litigator. I don't go into court. If I do, something has gone really bad."
AGE 36
Hometown:
Lafayette
Family: wife, Sarah; children Adeline, 5; Grant, 2
Firming up the foundation: Just finishing up his term as president of the Indianapolis Bar Foundation board, Duncan plans to stay highly involved with the group whose mission is to advance justice and lead change in Indianapolis through philanthropy, education and service. "There are a lot of unmet legal needs that have to be met," Duncan said, "and the foundation gives us a unique ability to meet those needs. Our job is to grow the donor base, making sure it goes beyond the 5,000 members. Over the past five years, the board members who rolled on have really changed the dynamic." Duncan also served on the executive committee of the Indianapolis Bar Association's Real Estate & Land Use Section, has presented at the American Bar Association's National Conference of Bar Foundations annual meeting, and was selected as an Indiana Super Lawyers rising star from 2009 to 2014.
In with the new: What impresses him when he sees associates join the firm? "You know self-starters when you see them," he said. "The way our firm is structured, it's almost entrepreneurial. You get the support you need, but you go out and make your own legal career a going concern. The ones who stand out are the ones not intimidated to make themselves known."
No exit strategy: Duncan never thought about leaving Indy. "I have a lot of friends who left," he said. "I'm still very hopeful that they will grow tired of raising kids in Chicago and Denver and elect to move back home."•
Please enable JavaScript to view this content.