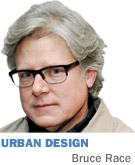 First of a three-part series about building Indianapolis for the next century.
The public draft of the city's Bicentennial Agenda has been published. The agenda is the visioning and value statement for the ambitious Plan 2020 effort being facilitated by the staff of the Department of Metropolitan Development working from the historic City Hall, better known as The Hall.
The agenda is the framework for a comprehensive effort to overhaul the myriad of documents that guide community development policy in the city. It is the product of a year of committee work and represents the first concerted effort to engage the larger community to imagine the city's future.
Over the next three months, I want to use the agenda as a lens for how we should be looking at downtown and our established neighborhoods. How does the agenda lay the groundwork for a true 21st century downtown, provide direction for continued economic and social growth in neighborhoods, and help create an exceptional region?
Four parts of the agenda will be especially important for taking the city's downtown success story to the next level. They deserve some focus.
• Downtown is becoming a big neighborhood. The agenda calls for distinct neighborhoods, and downtown has become one of our most successful. This is not a contemporary phenomenon. Many cities began in the 1990s addressing the job of making their central areas marketable. It took us a little longer, but we have made up for lost time, adding 500 units a year to downtown's housing stock. The numbers don't tell downtown's story, however. The agenda reflects the need for services and places that make downtown a desired choice.
Cities that have succeeded in adding housing have worked hard at adding value outside the lot line—that is, they realize the importance of strengthening the connection between urban neighborhoods and cultural events, cuisine, and the best regional collection of cafes and clubs. These are often called "third places" because they are a social place between work and home. The blurring lines between work and personal time give downtowns a competitive advantage because of the density of their business and social networks, so making these connections is a savvy economic move.
• Downtown will benefit from being at the regional center of a modernized multi-modal transportation system. The agenda calls for robust transit. Downtown is the traditional center for a hub-spoke system of roads, streetcars and highways that have connected generations of regional development to downtown. Maintaining this is essential for continued success. The new transit center reinforces this traditional hub role, but it also provides choice.
Living without a car is increasingly a lifestyle choice for the millennial generation. Many are driving later or not at all. Millennials are an important part of downtown's business ecology. Without good transit options, downtown becomes a less attractive choice for them.
• Downtown will continue to be the symbolic regional address for civic institutions. The agenda leverages anchor institutions as catalysts for revitalization. Downtown is the traditional location for governmental, educational and cultural activities. This is particularly important for our downtown. It is the primary administrative and cultural center for Indiana. This needs to be supported and enhanced as an important building block.
Those who populate local, state and federal government offices add to the market for downtown housing. These institutions are also an important destination for residents of the broader city and Hoosiers statewide. Keeping these anchors clustered and supported by transit provides a stable daytime population for downtown businesses.
We have a lot invested in making downtown the primary location for museums, concert venues and nightclubs. What makes downtown interesting is the variety of cultural offerings, from the Indianapolis Symphony Orchestra to jazz and blues clubs like the Chatterbox and Slippery Noodle Inn.
One of the challenges we have had is integrating IUPUI into downtown, which would create tremendous opportunity for business innovation, housing and services. Accomplishing that will require increased coordination and commitment.
• Comprehensive improvements to downtown means sweating the details. The agenda calls for targeted and layered investment. We have made some big projects happen. However, we are not good at the small things needed to meet our neighborhood-building, cultural and business goals for downtown.
Some of the less glamorous things we need to pay attention to include streetscape, maintenance and management of public spaces. Small, coordinated projects can alter perceptions and help people identify downtown as a place to be experienced.
I like the agenda. It is aspirational and came from an inclusive process. It emphasizes creating and enhancing places. There are, however, some things we need to do.
The most important is making sure we have the institutional alignment to build and maintain our downtown. It's counterproductive to have the city's Department of Public Works define street capacity by how many cars we can move instead of by how many people can use the public right of way for transit, biking and walking. Also, moving our justice operations to the old GM site undermines the plan's goal of making downtown the center for regional government and institutions. For the plan to work, everyone needs to be working from the same agenda.•
__________
Bruce Race, FAIA, FAICP, PhD, is an award-winning architect and urban planner, owner of RaceStudio, and recipient of the Indiana Sagamore Planning Award. He teaches urban design at Ball State University's Downtown Indianapolis Center. His column appears monthly. He can be reached at [email protected]
Please enable JavaScript to view this content.