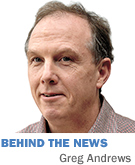 Ball State University lost $13 million through two investment scams that came to light last year—a debacle that prompted the school to hire former U.S. Attorney Deborah Daniels to assess financial controls and help ensure nothing similar happens again.
The men who engineered those scams, Seth Beoku Betts of Florida and George Montolio of New York, now are in federal prison. Meanwhile, Gale Prizevoits, who served as Ball State's director of cash and investments from 2006 until her firing in 2011, stands disgraced but hasn't been charged.
Democratic state Rep. Terry Goodin is eager to see Prizevoits get her comeuppance. During a Jan. 14 budget hearing, he quizzed university President Paul Ferguson on why she hasn't gotten her "due justice."
"I beg that you please push for full accountability," Goodin said, according to a report in the Muncie Star Press—a sentiment he echoed in an interview with IBJ.
Ferguson responded, "I can assure you that we have." He said a university consultant was working with authorities, who hadn't decided whether to bring charges.
A day later, the Indiana Secretary of State's Office, whose investigators typically work with county prosecutors on investment fraud cases, confirmed it's investigating the Ball State losses.
The spokeswoman, Valerie Kroeger, wouldn't elaborate to IBJ on the investigation. Delaware County Prosecutor Jeff Arnold didn't return a phone call.
Ball State officials previously have said they did not believe Prizevoits personally benefited from the scams. But they rapped her for concealing the botched investments and altering records that could have alerted the State Board of Accounts to irregularities. IBJ couldn't reach her for comment.
The university suffered its largest loss—more than $8 million—after investment adviser Betts in 2008 swayed Prizevoits to invest in collateralized mortgage obligations. After Prizevoits began asking about the investment, Betts engaged in a "four-year saga of delay and deception" while spending funds on cars and beachfront real estate, prosecutors allege.
Ball State learned of the fraud in 2011 but kept a lid on it at the behest of federal investigators, who were worried disclosure would compromise their inquiry.
By then, Prizevoits already had made another disastrous bet. According to the university, in 2010 she entered into an unauthorized $5 million investment with a California-based investment firm hawking a type of fixed-income securities known as Treasury STRIPS. Under the deal, the university was promised an inordinately low percentage of profits, just 25 percent. Even worse, more than $3 million found its way to Montolio, who promoted himself as a memorabilia dealer.
In a sentencing hearing, his attorney, Roland Thau, summed up the fraud this way: "Mr. Montolio advertised on the Internet that he had certain things for sale, which of course he didn't, and got the money from whoever was foolish enough to order these things from him."
A report from the accounting firm Crowe Horwath, which Daniels hired last year to analyze Ball State's investments and controls, said that, since being victimized, the university has made "improvements to the investment purchases checklist supporting a more robust review prior to an investment purchase."
It also took other steps to improve processes, Crowe Horwath said, though the accounting firm "observed a few minor operational deficiencies."
It's not clear how thorough a background check Ball State ran on Prizevoits before hiring her in March 2006. An online search would have turned up a thicket of lawsuits.
In 2005, National City Bank won a $20,000 judgment and Discover won a $19,000 judgment against Prizevoits for unpaid debts, Indiana court records show.
That same year, Prizevoits was hit with two more suits, with MBNA charging she owed $15,000 and Capital One saying she owed $1,500. Just 22 days before she started at Ball State, she turned the tables on those lenders, filing federal lawsuits accusing them of violating the Fair Debt Collections Practices Act. Judges dismissed the suits later that year.
The Star Press, which was first to report on some of the creditor lawsuits, also followed a paper trail to Florida, where Prizevoits and a Ball State official filed a permit in 2012 to build a $200,000 home.
Prizevoits and the official—Lawrence Cistrelli, the university's director of risk management—have joint tenancy of the now-completed home, the newspaper said.
Ball State spokeswoman Joan Todd said Cistrelli retired last year. Todd, asked via email to clarify whether Cistrelli was asked to leave, didn't respond by IBJ deadline.
Rep. Goodin, the lawmaker who quizzed President Ferguson, said taxpayers deserve transparency about how Ball State could lose so many millions.
"I would ask the same questions of any university. My concern is as a Hoosier citizen. That is a lot of money," he said.
"Until this is resolved, I think there will be a cloud hanging over the university's head."•
Please enable JavaScript to view this content.