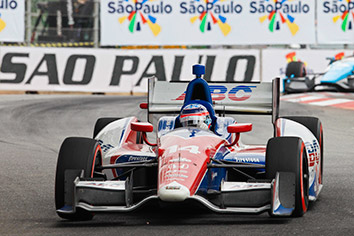 The IndyCar Series opener scheduled for March 8 in Brazil's capital was canceled on Thursday.
The television channel promoting the event released a brief statement saying the decision was made "unilaterally" by the local government in Brasilia.
Band TV did not immediately provide any additional details, but said it was a "hasty" decision by the local government.
"Band will inform in the next few days how those who have bought tickets will be reimbursed. The channel laments this hasty decision," the statement said.
The channel said three of the five seating sections for the race at the Nelson Piquet Circuit had already sold out.
The announcement appeared to catch IndyCar officials by surprise.
"This comes as a great disappointment, and we will have further comment when we have had the opportunity to talk with all of our partners and the authorities in Brazil," a series spokeman said in a prepared statement.
Mark Miles, CEO of IndyCar parent Hulman & Co., has said the race is an important kick-off for the series, which features several well-known Brazilian drivers including Tony Kanaan and Helio Castroneves.
"We're eager to continue IndyCar's rich history of racing in Brazil with today's announcement of a Verizon IndyCar Series event in Brasília next season," Miles said during a September announcement of the event. "The racetrack is located close to downtown and we expect more than 100,000 fans at event."
IndyCar last fall signed a five-year deal with race promoters to hold a race at Autodromo Nelson Piquet in Brazil through 2019.
IndyCar raced in Sao Paulo from 2010 through 2013 on a street course, but local promoters were not able to secure the event in 2014 because of financial problems. The CART open-wheel series was in Brazil from 1996-2000 with a race on an oval track in Rio de Janeiro.
"The fans [in Brazil] love IndyCar and support the race and we also have Brazilian sponsors involved in our sport, so racing in my home country is a no-brainer," Kanaan said at a press conference announcing the new Brazil race last fall.
The race in Brazil was one of two venues added to IndyCar's 2015 calendar. The other is in New Orleans. Subtracting the Brazilian race leaves IndyCar with 16 races on its 2015 schedule.
This isn't the first time the IndyCar Series has had to cancel a race. In 2012, the open-wheel series canceled a race in China and jeopardized its deals with its television and advertising partners.
As late as December, IndyCar officials said the Brazilian race set to take place on a 12-turn road course was on schedule.
"Everything is rolling along," race organizer Tony Cotman said told The Indianapolis Star in December. "There's still a lot of work to do in a short time, but there should be no reason not to get it done."
Brazilian media outlets began reporting troubles with the race and preparations late last fall.
Former Formula One and IndyCar driver Rubens Barrichello, a native of Brazil, last month told reporters he thought the race would be very popular with Brazilians.
 
Please enable JavaScript to view this content.