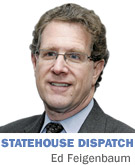 The fun begins. Legislative committees are getting first crack at the more controversial bills of this session, with some already moving on to House and Senate votes.
This week sees more action on religious-liberty issues. Specifics rev up from the innocuous to what some see as the need to restore an instrumental element of fundamental rights, and others paint as an insidious step backward in human rights.
A "Christmas tree bill" ordinarily connotes one laden with matters better dealt with individually but aggregated to gain votes; however, in this context, the Christmas tree bill is largely about Christmas.
The first piece of legislation in the religious-liberty vein this session seeks to free schools from lawsuits over religious expression during the holiday season. This bill, which passed unanimously in the Senate in 2014, would protect celebration of Christmas in public schools, allowing students to decorate Christmas trees and share traditional holiday greetings, effectively allowing religious symbols associated with traditional winter celebrations as long as more than one religion is represented, or a secular symbol accompanies a religious one.
But this year, the issue didn't end with the innocuous.
The Senate voted Feb. 3 to allow religious-affiliated organizations with state contracts to continue religion-based hiring practices—a concept legislative leaders blocked when introduced late in the 2014 session as an unvetted amendment.
The measure, authored by Sen. Travis Holdman, R-Markle, would also allow such entities to require employees to adhere to religious tenets—just after The Catholic Diocese of Fort Wayne-South Bend was found liable for declining to renew a teacher's contract after she underwent in-vitro fertilization treatments.
But the real clash looms as the Senate Committee on Public Policy considers a pair of measures that could significantly affect business practices. This could also cloud relationships between assorted lawmakers through the end of the session.
Sens. Scott Schneider, R-Indianapolis, and Dennis Kruse, R-Auburn, advocate bills to protect individuals with sincerely held religious beliefs, along with Christian businesses and churches.
Senate bills 101 and 568 would bar government from "substantially burdening" a person's exercise of religion, unless government can demonstrate the burden furthers a compelling governmental interest and uses the least restrictive means to do so.
Schneider's SB 568 would go further, allowing a person whose exercise of religion has been or is likely to be substantially burdened by a state or local government action to assert the burden as a claim or defense in a judicial proceeding, and be entitled to judicial relief.
Advocates assert that these "civil rights" protections will help protect individuals, Christian businesses and churches from those supporting gay marriages and government recognition and approval of gender identity—allowing, for example, churches to refuse to accommodate a gay marriage ceremony. They see this as simply a restoration of long-cherished protections for religious freedom in Indiana.
Eric Miller's Advance America, the American Family Association of Indiana and the Indiana Family Institute have paved the way for this since the same-sex marriage amendment failed to pass last year.
Opponents suggest that allowing such actions would effectively institutionalize discrimination, leading courts on a slippery slope to define what type of discrimination is permitted under a given religious viewpoint.
They look at this specifically as an end run around legalization of gay marriage, but one with more serious potential, and a policy that will inevitably spawn a plethora of expensive lawsuits.
For those spoiling for a fight over social issues, the religious-freedom package will prove to be the lightning rod.
House Democratic Leader Scott Pelath, D-Michigan City, has counseled against inserting social "wedge" issues back into the process. Republican leaders haven't made this part of their respective agendas, but aren't inclined to stand in the way.
The rhetoric could become ugly and relationships frayed as lawmakers head into the final days of committee hearings for the first half of the session—ironically just a few days after Valentine's Day.•
__________
Feigenbaum publishes Indiana Legislative Insight. He can be reached at edf@ingrouponline.com.
Please enable JavaScript to view this content.