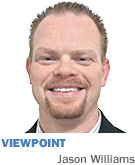 There's a lot to be said for surrounding one's self with people smarter than you. Why? Because it's really wise to do so. It is also wise to pay attention whenever a publication offers a list of advice from successful leaders. This year's Forty Under 40 group is no exception.
Reading through the interviews last week, I couldn't help but notice the sound advice on innovation leadership that jumped from the pages. If you are looking for help to drive your product, service or organization forward, pay attention.
Get out in the field. Milhaus Development's Micah Hill shares the importance of working in the field to gain a better understanding of the industry he is now a leader in. During his college years, Hill worked in construction. "I was fascinated with the creation and formation of things. … It was great experience in understanding … "
Collect more dots. Innovation is about collecting and connecting dots. And if you want to connect more dots, you've got to put more dots on the canvas. Speak Easy Executive Director Denver Hutt emphasizes that one of her missions is "to meet cool people doing cool things." If you meet lots of cool people, you create opportunity for lots of meaningful collisions.
Always be curious. The Colts' Carlie Irsay-Gordon admits she is "interested in everything." This appetite for knowledge led to studies in religion and psychology. It also drives her involvement with many Indianapolis organizations.
Experian principal Vijay Mehta also emphasizes the role curiosity plays in his success. "The best way to grow is to try new things and never settle for the status quo," he said. "I'm always looking for new opportunities, new ideas, new technology."
Step off the trail to explore. Gov. Pence's health care policy director, Brian Neale, doesn't just see the established trails. When looking at a map, he sees opportunities to find new routes. "What we're trying to do with health care is to extend the trail of reform into new territory. The scenery changes when you step off the trail, and that can be some of the most beautiful scenery in the country."
Improvise. Novelist Ben H. Winters shares the important role performing improvisation has played in his writing success. "That's how conflicts are created. You also learn to collaborate."
And don't think improv is just for creative artists. Local improv group ComedySportz Indianapolis offers team building and corporate training. It turns out that that improv fundamentals work well in business—the importance of co-creation, building on others' ideas, and working without a script.
Don't let off the gas. Many organizations find it tempting to take it easy after launching a successful innovation. The Excel Center's Joe White drives this lesson home. Twice during his football career, White found himself not taking his training seriously. "The biggest lesson I learned through athletics is to always prepare for transition. You can be good where you are, but you have to prepare for what's coming next."
Always be innovating. You should be the organization that replaces your own product in the market.
Embrace creativity. When asked about recruiting talent to Indianapolis, Hillenbrand's director of human resources, Jason Riley, admits the city has a reputation for being conservative. "The more we embrace creativity and take calculated risks, the more we turbocharge the city."
Start applying these lessons and you'll not only turbocharge your city, you'll also turbocharge innovation in your organization.•
__________
Williams owns the consulting firm Spycomps and is communications director of Centric: Indy's Innovation Network. Send comments on this column to ibjedit@ibj.com.
Please enable JavaScript to view this content.