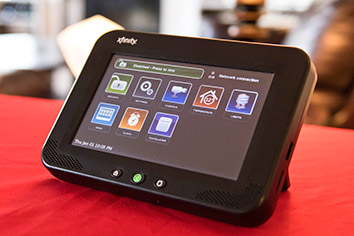 Bob Nixon tried a traditional home-security system for two years and then dropped it. It never proved its value, he said.
Nixon is a home security customer again, but this time his system has home automation features, too. He can lock and unlock his house remotely, adjust his thermostat, and view home camera feeds on his smartphone.
"At this point, I couldn't see myself not having it," said the 45-year-old Westfield native who has the service through AT&T Digital Life.
Home security by itself isn't that sticky of a product, in only about one in five American homes. But technology has paved the way for people to engage with more aspects of their homes beyond security features, helping stave off cancellations. As a result, cable, phone and other companies have taken notice and jumped into the space.
"You don't just wake up in 2013 and say you're going to do this," said Brian Ducharme, AT&T's vice president and general manager for the Great Lakes region. "It was a good business opportunity for us because the market was ripe for innovation."
Over the past few years, some of the biggest telecommunications players in the Indianapolis market have launched home security products, including Comcast in October 2011, AT&T in July 2013, and Bright House Networks in September 2014.
The companies don't disclose customer numbers or market shares. But industry observers note that these and other national telecom companies have a unique opportunity in the smart-home frontier because they already have a foothold in millions of homes.

Nixon
"You heard of the so-called triple play?" said Louis Fiore, CEO and executive vice president at the Central Station Alarm Association International, a Virginia-based trade group. "Now they can do a quadruple play."
Home security firms, some of which are more than a century old, aren't sitting idle. Indianapolis-based Defender, an ADT provider, began offering remote monitoring and control capabilities in 2012. Last summer, it started offering home automation services.
In an industry built largely on fear, home automation offers what many in the security industry see as a promising opportunity to attract people who have historically shunned home security services.
Robert Siciliano, who runs reviews site BestHomeSecurityCompanys.com, said consumers often purchase home security systems after they are burglarized.
Those with no connection to such experiences tend to forgo or cancel security services.
"So now, when you merge home security and home automation," he said, "it kind of softens all that."

Siciliano
Security a keystone
Whether it's a home security firm or telecom company, selling home automation by itself doesn't seem to cut it.
Few, if any, of these companies offer smart-home systems without a security component.
A Harris Poll survey conducted last July found that 62 percent of about 2,100 respondents consider security and monitoring as a benefit to owning a smart-home system. That's compared to 40 percent who cited energy-efficiency and 35 percent who mentioned convenience.
In another survey by Icontrol Network Inc., two out of three respondents gave security as the number one reason overall for using a smart-home system. Defender CEO Jim Boyce likened the relationship to smartphones.
"You'd never buy a smartphone if it didn't have telephony functionality," he said. "But I bet most of the time you're not talking on the phone, you're using it in other ways."
The security business hasn't been the easiest nut for telecom companies to crack. Siciliano and others noted that companies like AT&T have tried it before, only to pull out.

Boyce
But trends in the security industry, namely the shift from wired to wireless systems, have leveled the playing field a bit. "Hard-wired systems required somebody with knowledge of electrical system and snaking wires, and it required significant manpower," Siciliano said.
By and large, security firms didn't wait for telecom companies to encroach. For instance, 141-year-old The ADT Corp. launched its smart-home product "Pulse" in October 2010. In February 2011, APX Alarm Security Solutions Inc. rolled out home automation products and rebranded itself as Vivint.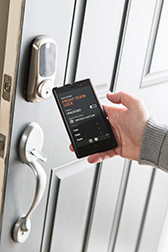 Westfield resident Bob Nixon demonstrates his home automation and security system, which allows him to lock and unlock doors remotely. (IBJ photo/Eric Learned)
Security companies still grasp the lion's share of the market. According to the Electronic Security Association, 85 percent of residences with home security products hold accounts with traditional security companies.
Cable companies hold about 2.5 percent of the market and telecom companies about 1.2 percent. The rest include people who have do-it-yourself security systems.
Some cannibalization
Industry trade group leaders said they welcome nontraditional security firms and even have a few as members. One benefit is that the additional marketing helps grow awareness, they said.
While the overall market is projected to grow, there are signs of cannibalization.
Tony Biggs, for example, used to be an ADT subscriber before switching to Comcast's Xfinity Home in mid-2013.

Biggs
When Biggs, 35, of McCordsville, became a firefighter 10 years ago, his wife insisted on a home security system because of his schedule. Factors for the switch, he said, included wanting to get rid of the wired system and to avoid having to call his wife on his way home in the middle of the night to disarm the system so he wouldn't wake up his children.
Biggs said ADT "never let us know" it had solutions to his family's pain points. He also said it made financial sense for him to bundle home security and automation with his other Comcast services.
Boyce, with Defender, said telecom companies already in people's homes have an edge in terms of convenience. But he noted that several of these firms have some of the poorest customer-satisfaction rankings.
"If I am disappointed in the quality of the service and the interactions that I'm getting with, for example, a cable provider," he said, "why would I trust them with securing my loved ones and my house?"

The advantages traditional security firms have, Boyce and others said, include decades of niche experience protecting homes, numerous dispatch relationships with first responders, and an extensive call center network.
Wired homes
The battle may yet intensify. In addition to houses, companies young and old are realizing that things within houses can connect to the Internet and therefore be monitored and controlled. Think blinds, pet doors, coffee makers, sound systems and more.
In the age of the so-called "Internet of Things," startups are moving quickly to deliver solutions and new products. And big tech companies not considered telecom players are interested in the space, too. In 2014, Apple launched Home Kit for home automation and Google paid $3.2 million to buy Nest, which makes smart thermostats and related home products.
A few companies even sell do-it-yourself systems for security and automation, where users pay an upfront fee but no monthly fees. 
Despite the potential headwinds, ESA President and CEO Merlin Guilbeau said the outlook is bright. More than half of ESA's member companies offer some home automation product and these interactive services could eventually double the long-standing 20-percent penetration rate.
"ESA member companies are growing," he said. "In 2014, they averaged 14-percent growth and some may argue that a portion of the growth is likely attributable to delivering the lifestyle benefits that consumers are demanding."•
Please enable JavaScript to view this content.