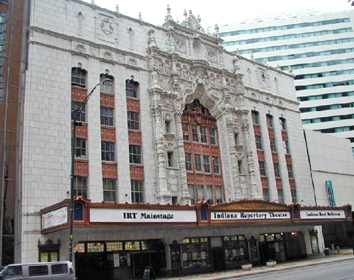 The city of Indianapolis is seeking a partner to manage and redevelop downtown's historic Indiana Theatre building, which is operating at a loss and needs repairs.
Built in 1927, the city-owned landmark at 140 W. Washington St. has housed the Indiana Roof Ballroom since its opening and has served as the Indiana Repertory Theatre's home for 35 years.
The city said Monday afternoon that it is issuing a request for information seeking "creative solutions" that can be used in a plan, including the existing uses by the theater and ballroom.
The city became sole owner of the building only in May. An inactive organization called the Downtown Merchants Association had owned the building with the city, said Adam Thies, director of the city's Department of Metropolitan Development.
The city's annual costs to operate the building exceed revenues by $250,000, Thies said.
"We want the IRT to stay there," he said. "But the building definitely needs repairs, and it's a loss leader. We're interested in hearing from people who might have ideas on what to do with the building."
Susanne Sweeney, IRT's managing director and chief operating officer, told IBJ that the not-for-profit's lease with the city expired about a year ago. The two sides are negotiating details of a new agreement.
"We are very interested in finalizing a long-term deal here so that our donors are comfortable," she said.
"Our only long-term goal is figuring out a long-term solution for us staying here," Sweeney said. "And the city has told us their goal is the same. The RFI is a step in that process."
The city is directing interested parties to submit plans for redeveloping the property and how they would benefit the city, in addition to outlining their experience with similar projects..
Details can be found on DMD's webpage at: http://www.indy.gov/eGov/City/DMD/Pages/home.aspx.
The city expects to make the property available by appointment from 9 a.m. to 11 a.m. for four days beginning Feb. 17. Proposals are due by 5 p.m. March 6.
The six-story structure was added to the U.S. National Register of Historic Places in 1979. Its original marquee is still in place. The basement originally contained bowling alleys and billiard rooms. Upper floors were divided between office and theater space.
The building stopped operating as a cinema in 1975. The Indiana Repertory Theatre took up residence in 1980 after extensive renovations.
It was designed by the Indianapolis architecture firm of Rubush and Hunter.
Please enable JavaScript to view this content.