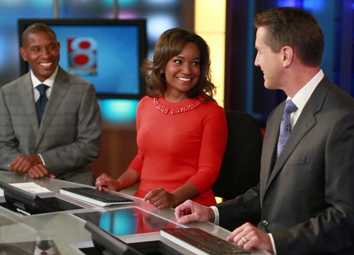 WISH-TV Channel 8 officials can breathe a little easier after one month for the newly independent station. WISH's local news ratings have not cratered—as some predicted—despite losing its CBS affiliation Jan. 1.
WISH for the month of January scored the No. 2 rating in local TV news in the 5 p.m. to 6:30 p.m. time slot, according to New York-based Nielsen Media Research.
While WISH's 3.8 rating was far behind market leader WTHR-TV Channel 13, which recorded an 11.1, it was ahead of WXIN-TV Channel 59 (3.6), WRTV-TV Channel 6 (2.7) and WTTV-TV Channel 4 (2.1).
Revenue from ads sold during local newscasts are a television station's biggest money maker, so it's no small coup for WISH to hold its own despite losing its CBS affiliation to WTTV, now known as CBS4. WISH, meantime, picked up the CW affiliation.
In the 5 a.m. to 7 a.m. slot, WISH came up No. 3 in local TV news. WISH's 2.2 rating, according to Nielsen, was behind WTHR's 5.5 and WXIN's 3.0, but ahead of WRTV's 1.4 and WTTV's 0.5.
Interestingly, WISH's 7 a.m. to 9 a.m. newscast earned a household rating of 1.8, while CBS This Morning earned a 1.3 during that time in this market, according to Nielsen.
WISH now starts its late news at 10 p.m., and with a 2.0 rating, trails WXIN, which scored a 5.4 in that time slot during January.
WISH is clearly hurt by a lack of a network prime-time lead-in show as it ranks No. 5 behind all its competitors during the 11 p.m. news slot. At 11 p.m., WTHR scored a 6.4 rating, WTTV benefitted from strong CBS lead-in programming (along with familiar faces Bob Donaldson, Debbie Knox and Chris Wright) to score a 3.2, WXIN had a 2.6 and WRTV a 2.5. WISH recorded a 1.7, according to Nielsen.
Each rating point equals 10,720 central Indiana households, according to Nielsen.
WISH has had some staff departures and layoffs since the station announced last summer it was losing its CBS affiliation, WISH General Manager Les Vann said 30 staffers have been added and the overall size of the local TV news operation has grown.
Vann said he is confident that as WISH's re-branding effort continues and it attracts more viewers to its new CW content, ratings will grow.
"We are starting 2015 off with great strength and ambition," Vann said. "We are extremely grateful to the people of Central Indiana for their continued support. The investments we are making further enhance WISH-TV's 60-year commitment to localism, and we will continue delivering more breaking news, investigative journalism, sports and weather coverage, across all screens, and in new time periods for our viewers."
Please enable JavaScript to view this content.