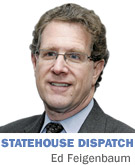 As the session began, we warned you to pay close attention to education issues, because they would drive the political and fiscal discussion.
That's held true.
The education governance battle has split lawmakers largely along partisan lines, and consumed some of the good will Republican Gov. Mike Pence enjoyed with Democrats. The education testing issue—which burst from nowhere to suck the oxygen out of everything (including even Sunday alcohol sales, religious-freedom bills and gambling expansion)—diverted the attention of lawmakers for a full week.
The issue even overshadowed the low-key revelation that legislation to repeal the common construction wage law would be added to the House Committee on Labor agenda for Feb. 17, an action intriguingly undertaken without approval of the committee chair.
Even though—stereotypes aside—lawmakers can walk and chew gum at the same time, this was a big distraction for them in Indianapolis and at home. Lawmakers were inundated with concerns from parents and educators at Valentine's Day weekend events in their districts and several events became tumultuous.
Then House Republicans released their proposed budget, boosting spending on K-12 education well beyond levels proposed by Pence ($469 million more over the biennium than the last budget), making amends with public-school backers in part by raising the basic amount each school receives per student, but clearly favoring fast-growing suburban districts over shrinking urban and rural districts, and also quietly boosting voucher spending.
But the big-picture takeaway is that, between K-12 education and Medicaid spending, this initial legislative cut at the budget consumes some two-thirds of all spending—even before higher education appropriations are added (another 12 percent in fiscal 2015). That 65 percent tops the 59-percent chunk those two responsibilities combined for in fiscal 2015.
Add inflationary increases for current programs, and you will quickly discern there simply is little room for discretionary spending—particularly on new initiatives.
So where will the big areas of contention come within the General Assembly—and between lawmakers and the governor—during the session's second half, which opens in early March?
Education spending will continue to generate debate, with urban and rural schools and schools with high populations of special-needs students fighting for more funding. Public and private schools will clash over continued "voucher creep." Accountability and takeover standards need refinement, how the State Board of Education should be selected and operate is yet to be settled, and long-term testing issues beyond March problems must be resolved.
The surprise emergence of common construction wage repeal will prompt renewed attention from organized labor and widen rifts revealed in the right-to-work debate. Spending on state prisons versus local corrections is in dispute between the second and third floors of the Statehouse.
Indianapolis soccer stadium funding spurs other cities and regions to question why they have been left out of the largesse. It also raises new concerns about why state and local government continues to spend big bucks to generate economic development and create winners and losers, and alienates Democrats who see it as a Republican nod to a big GOP donor.
The road to defining and solving gambling-industry issues began to take shape in late February, but appears destined to be largely shaped in conference committee with lawmakers looking over their shoulders at the governor.
Ditto for other high-profile issues with the public.
Sunday sales of alcohol still faces hurdles to cross the rotunda to the Senate after a "poison pill" amendment was added in committee, rendering murky the fate of this measure.
Hundreds of other bills are still alive, some with large social impact and others simply carefully targeted "stuff of government" items, but which must survive attempts to be co-opted for other purposes.
All this makes for an always interesting final two months of session.•
__________
Feigenbaum publishes Indiana Legislative Insight. He can be reached at edf@ingrouponline.com.
Please enable JavaScript to view this content.