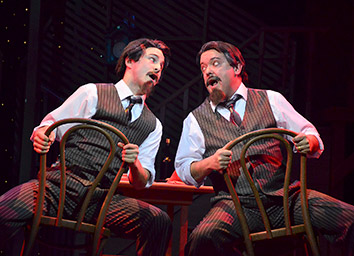 George Gershwin died in 1937. But that hasn't kept Broadway producers from crafting "new" musicals featuring his music.
"My One and Only" was a hit in 1983. "Nice Work If You Can Get It" did OK in 2012 and is currently on tour. In between, the decades-late composer scored a big success with "Crazy for You," currently being revived in a charming production at Beef & Boards Dinner Theatre (through April 4).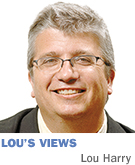 When it opened in New York, "Crazy for You" was billed as "the New Gershwin Musical Comedy," although it wasn't exactly new. Tangentially based on 1930s "Girl Crazy," "Crazy for You" retained a chunk of the original's song list as well as its Easterner-goes-West plot device. It brought in songs from other Gershwin shows and tied them together with a completely overhauled book by farceur Ken Ludwig (whose non-musical comedy "Moon Over Buffalo" closed Feb. 21 at Booth Tarkington Civic Theatre).
An example of adaptation done right, "Crazy for You" honors the original, combining great songs (including "But Not for Me" and "They Can't Take That Away From Me"), high-energy dance, silly comedy and a big heart, whipping it all up in a colorful, smile-inducing froth.
(For an example of what happens when an adaptation goes wrong, see the 1965 movie "When the Boys Meet the Girls," also lifted from "Girl Crazy" and featuring—I kid you not—Herman's Hermits, Connie Francis and Liberace).
The plot of "Crazy for You" is simple. Bobby, a would-be dancer and reluctant banker, heads West to foreclose on a theater in the just-about-ghost-town of Deadrock. The only gal in town is Polly, a spunky mail carrier and daughter of the theater's owner.
Guess what? Bobby hatches a plan to revive the theater by putting on a show with his New York showgirl pals. And, of course, falls hard for Polly. Miscommunication, mistaken identity and other complications predictably get in the way of love and theatrical success.
There's no mistaking Deadrock for the actual Old West. This is a place where a tap number can, and does, break out at the drop of a top- or cowboy hat and where falling in love at first sight is accompanied by a spotlight and freeze frame for everyone except the smitten party.
Bobby starts out pushing too hard, then learns to tone things down. Beef & Boards seems to have taken that lesson to heart, honoring the show by not overplaying it. The production embraces the show's sentiments without winking at them. Mugging is kept to a minimum and the laughs are bigger because of it. And while the choreography has been modified from the Broadway original, compromises are overt only in the "Stiff Upper Lip" and "I Got Rhythm" numbers, which remain vibrant but without the over-the-top thrills that brought the house down in the original.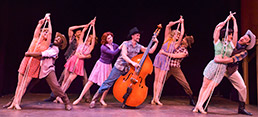 Cowboys and showgirls team up in the "Slap That Bass" number in "Crazy for You." (Photo courtesy of Beef & Boards Dinner Theatre)
The highlights are many, including a smartly choreographed and played "Naughty Baby," in which Bobby's femme fatale fiancee (Erin Cohenour) takes a shine to the tough-guy saloon owner (Jeff Stockberger); a heartfelt "Someone to Watch Over Me" from Polly (Hillary Smith); and a gloriously giddy duet between accented impresario Bela Zangler (Eddie Curry) and a dressed-as-Zangler Bobby (Blake Spellacy).
The biggest pleasure, though, is that these moments don't stand out as specialty numbers—the humor comes out of the established characters and the music and dance elevate the action, blending seamlessly with the book. And director Doug E. Stark and choreographer Ron Morgan manage the space available on the stage nicely.
Add in a charming quintet of laconic cowboys—matched by a high-pitched-without-being-shrill gaggle of chorus girls—and, well, it would be greedy to ask for anything more.•
__________
This column appears weekly. Send information on upcoming arts and entertainment events to lharry@ibj.com.
Please enable JavaScript to view this content.