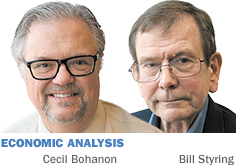 Chances are that unless you landed a plum job (or got fired), the thing you'll remember most about the 2014 economy is the incredible slide in gasoline prices. U.S. benchmark crude oil fell from $107 per barrel in July to less than $50 today.
Most of us buy gas frequently. We notice when prices change because it's a big component of the family budget.
Political scientists find that gas prices significantly influence how we view a president's handling of the economy. That's unfair to presidents. There should be no mystery why you're getting a break at the pump, and it isn't because of the president. It's our old friend, supply and demand.
Demand for petroleum products has stagnated because the global economy slowed. Supply, primarily driven by U.S. shale oil, has soared.
Fracking (using high-pressure water, sand and chemicals to blast loose hydrocarbons from shale), coupled with horizontal drilling (to get at long, thin shale beds), is responsible for adding a whopping 4 million barrels of crude a day to the global supply.
The result should be familiar to any first-year economics student: An increase in supply coupled with consistent demand leads to declining prices.
In the short run, small changes in supply or demand can cause large swings in oil and gasoline prices. This is because most motorists' gas consumption isn't very sensitive to price changes, at least initially. Few buy a gas guzzler because gas prices go below $2 a gallon for a week.
However, if gas prices stay under $2 for a long time, you can bet large cars, SUVs and trucks will make a comeback.
In the same vein, few producers shut down existing wells because of a temporary drop in oil prices, but they do not drill new wells if prices stay low for an extended period. This is already happening, as major oil companies have slashed their capital budgets by about a quarter.
Moreover, the new breed of U.S. driller, the shale fracker, is even quicker to respond. Fracking wells are cheap, deplete quickly and are drilled in less than two weeks. At $50 oil, their rig counts are also dropping.
This all portends an increase in gas prices at the pump … sometime. Meanwhile, enjoy your trip to the gas station. Just don't credit (or blame) the president.•
__________
Bohanon is a professor of economics at Ball State University. Styring is an economist and independent researcher. Both also blog at INforefront.com. Send comments to ibjedit@ibj.com.
Please enable JavaScript to view this content.