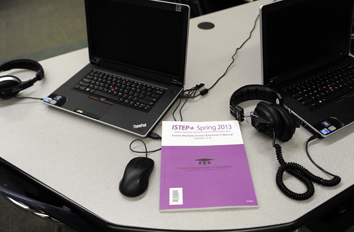 Indiana school administrators say they welcome efforts to shorten the standardized test that 450,000 students will soon begin taking, but they say the exam will still take too long and put children at risk of testing fatigue.
Changes to the ISTEP+ test to align with new state education standards sparked an uproar when teachers and parents learned the new assessment would double testing time to about 12 hours.
Gov. Mike Pence hired two consultants to work with the Department of Education to shorten the test, and the DOE notified schools this week that it's shaving more than three hours from the exam. The state also has eliminated a social studies test for students in 5th and 7th grades.
But the testing time is still excessive, said Mike Langevin, assistant superintendent for Decatur Community Schools. He noted that students will spend three to five hours on a practice test before they ever get to the actual exam.
"The practice test alone. is still longer than last year's ISTEP," Langevin told the Greensburg Daily News.
Langevin said the ISTEP+ exam took an average of 160 minutes for students to complete last year. This year's practice tests will range from 195 minutes for eighth-graders to 295 minutes for third-graders.
"Kids are going to be numb to this testing," Langevin said.
Some parents are choosing not to have their students tested.
"The whole public school system is trying to impose a standard factory-based, corporate-based, accountability on our public schools," said Merry Juerling, administrator for Opt Out Indiana, part of a national movement to educate parents about keeping their children out of standardized testing. "We're using one test to assess the learning of children, and it's unethical."
Juerling told WANE-TV in Fort Wayne that students are missing out on critical skills they need for college and real life by spending most of the semester focused on test-taking.
Indiana law doesn't prohibit parents from opting their children out of ISTEP+ testing, but the Indiana Department of Education says the state risks losing federal funding if at least 95 percent of students don't take the test.
School administrators worry that having children opt out will negatively affect teachers and school districts.
"Teachers' salaries are tied to school grades and student performance, and so there's a lot of pressure on teachers that way," Southwest Allen County Schools Superintendent Phil Downs said.
Please enable JavaScript to view this content.