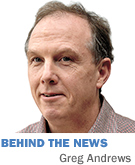 Indianapolis developer Harold Garrison, already facing criminal and civil investigations, now finds himself in even more trouble after being accused of stonewalling attorneys seeking documents in his personal bankruptcy case.
Bankruptcy Judge James Carr on Feb. 23 ordered Garrison, 66, to appear at a March 30 hearing and show cause why he should not be held in contempt and sanctioned by the court.
The contempt motion was filed by two Cayman Islands-based investment funds angling to collect as much as possible on a $5.8 million civil fraud judgment they won last year from Garrison and his Indianapolis-based development firm, HDG Mansur.
The investment funds contend that instead of complying in good faith with their subpoena, Garrison had drowned them in 8,000 pages of minutia—"a 1980s-style litigation 'garbage dump' of old operating agreements that … have virtually no relevance to his current assets, their value, or any other area of inquiry necessary" to resolve the bankruptcy, the motion filed by Krieg DeVault LLP in Indianapolis and King & Spalding LLP in Atlanta asserts.
"While Garrison will undoubtedly argue that he has produced a 'vast quantity of documents' that have taken him much time to compile, the fact remains that he has studiously avoided producing anything of significance to his Chapter 11 case and has instead produced multiple copies of the same documents. His strategy appears to be to produce large quantities of worthless information, then ask for an extension of time" to propose a reorganization plan.
William Tucker, an attorney with the Indianapolis law firm Tucker Hester Baker & Krebs who represents Garrison, did not respond to requests for comment.

Garrison
Garrison once was among Indianapolis' most prolific developers. In the 1980s, he teamed with Cornelius Alig on such headline-grabbing projects downtown as construction of Market Tower and the redevelopment of Lockerbie Marketplace and the Omni Severin Hotel.
He upped his ambitions even more after parting ways with Alig in the early 2000s, investing across the globe through what he described as a $2 billion fund compliant with Islamic Sharia law.
But his fortunes turned south last year after federal prosecutors and the Securities and Exchange Commission launched inquiries into whether he and HDG Mansur had taken $5.8 million from the Cayman Islands firms, which had hired HDG Mansur to provide fund management and investment advisory services. A federal judge in the civil lawsuit concluded HDG Mansur appeared to commit "a massive theft on the flimsiest of pretexts."
Other allegations
The Cayman Islands firms aren't alone in howling fraud. A year ago, KFH Capital Investment Co. and Kuwait Finance House Real Estate Co. filed a lawsuit in the United Kingdom accusing Garrison and HDG Mansur of misappropriating more than $11 million in connection with a failed development called Finzels Reach in Bristol, England.
HDG Mansur affiliates filed for Chapter 11 protection in May 2014, and Garrison filed for personal bankruptcy five months later.
The outlook for creditors doesn't appear bright. An October filing by the Cayman Islands funds said the HDG Mansur firms in bankruptcy had only about $10,000 in cash on hand, far less than they had rung up in legal fees.
Scouring for assets
Creditors are leaving no stone unturned. Last fall, they swayed Judge Carr to appoint an examiner to, among other things, "prosecute any claims" against Garrison or affiliated companies or trusts.
Examiner John Humphrey, a partner with Taft Stettinius & Hollister, is just getting started. But in a preliminary report filed Feb. 2 he said a nearly $400,000 transfer from HDG Mansur to a Garrison trust in early November 2013 was improper because the development company was insolvent at the time. He said the money needs to be paid back.
Humphrey said he also had begun looking into a trust in favor of Garrison's wife and descendants that Garrison set up just a week later. Any transfers from HDG Mansur to the new trust also likely should be reversed, he wrote.
"The Examiner also continues to investigate whether there are breach of fiduciary duty claims against Garrison as well as other claims," Humphrey wrote.•
Please enable JavaScript to view this content.