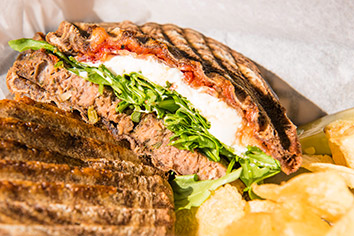 Bent Rail Brewery (5301 N. Winthrop Ave., 737-2698) is not officially the cafeteria for The Speak Easy. But housed just a plot of land to the north, it might as well be.
You may already be aware of The Speak Easy. Youthful and packed with creative energy, the membership-based, shared-office space has become a hotbed of business incubation and networking.
Now imagine the ideal cafeteria for it. The place would have lots of space to spread out. A friendly staff would know when to play it cool but also sense when you want to banter. The place would also have a pinball machine. And brew its own beer. And it would strive for success in its sandwiches in the same way The Speak Easy's clients do in their businesses.
In other words, it would be exactly like Bent Rail Brewery.
Let's get a key caveat out of the way first: Bent Rail is still a few steps away from actually brewing beer, making those big tanks something of a tease. Also, while roominess is nice, the vast, empty place feels a bit like someone had set up tables for a pancake breakfast inside a high school gym. (It also had a faint smell of bleach, which at least means the staff is keeping the beer-making gear immaculate.)
Any concerns, though, are countered by Bent Rail's top-notch sandwiches.
We tried three, all of which aimed for the fences and cleared them. Roast Beef Brisket ($13) had meat that would stand on its own, but when decorated with horseradish cream, caramelized onions, Dijon aioli and white cheddar cheese, it was a stand-out.
Lamb Terrine ($13) featured lamb bacon, rosemary tomato jam (in moderation), arugula and big pockets of whipped goat cheese. Meatloaf ($9.50) on rye raised the bar even further, with a house-made ketchup, whole grain mustard, red onions and house pickles artfully building on the flavor of the sandwich's core. For the price and with the main events being so successful, you'd expect something better than run-of-the-mill chips on the side, but still, there's quality sandwich-making at work here.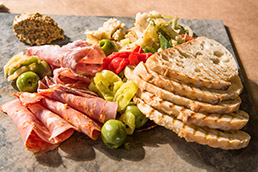 There's plenty to choose from on the Bent Rail Charcuterie Board. (IBJ Photo/ Eric Learned)
Appetizers were solid as well. Bent Rail might not offer the most attractive Charcuterie Board ($12)—one of its components looked like the meat in the Family Deli Pack that nobody eats—but it was sizable and delicious. The Daily Hummus Plate ($7), served with artichoke hearts and pickled vegetables (watch out for the sizable jalapenos), cried out for pita instead of the toast points. And the Creamy Tomato Basil Soup ($4.50) was thick and hearty, nearly a meal in itself.
If there's any culinary justice, the sandwiches will be enough to put Bent Rail on the destination dining map.•
—Lou Harry
Please enable JavaScript to view this content.