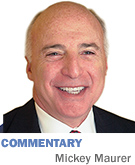 David Knall, an investment adviser with Stifel Nicolaus and Co. Inc., is a fanatic about reading every written word that crosses his desk. When he cannot devour the material on a timely basis, he stuffs the old newspapers, magazines and industry reports in briefcases and suitcases and lugs them along on vacations. Once, in an airport during a flight delay he pulled out his stash and began to read. A passer-by glanced at the headline of his newspaper and gasped, "Oh, my gosh, President Reagan has been shot again?"
I also like to save articles for future perusal. I recently read that last December the ACLU of Indiana and the Freedom from Religion Foundation filed a suit against Franklin County to halt a nativity scene from being displayed by private citizens on the Franklin County Courthouse lawn. In response, the Thomas More Society assisted the county in formulating a policy of offering the courthouse lawn as a public forum for private displays and events in accordance with the safe harbor directives laid down by the U.S. Supreme Court.
The word "Franklin" and "religion" in the same sentence triggered an unpleasant memory—an incident in another county of rude and insensitive exercise of "in your face Christianity."
Nine years ago, as Indiana secretary of commerce I was invited to speak in Johnson County at a Franklin College luncheon co-sponsored by the Franklin Chamber of Commerce. It was on the cusp of the one-year anniversary of my tenure at the Indiana Economic Development Corp., and I looked forward to sharing some of our results. We had won more than 120 competitive projects creating commitments for 13,500 new jobs. We closed more deals than the prior administration did in its last two years put together, and we did it while giving away less incentive money than the prior administration in its best year. At the luncheon, I bragged about all that and a bunch of other things, including the development of our return-on-investment model, which brought Indiana economic development into the 20th century in terms of quantitative and qualitative analysis. I was proud of our work.
I made my points, told a few jokes and answered a few questions. Feeling good about the whole event, I was about to take my seat when the emcee asked that we should all stand for a closing prayer. The luncheon opened with a prayer, and I remember thinking I had not experienced a chamber luncheon that featured opening and closing prayers; I had spoken to many chambers of commerce by that time. The prayer was delivered by a Franklin resident, Mike DuKate. I did not know DuKate but apparently he knew me or at least from my introduction determined correctly that I am of the Jewish faith. In an overly long, rambling and rude dissertation, he said with enthusiasm, "Our speaker today will burn in hell."
I am no stranger to anti-Semitism and, in fact, experienced that ugliness a half dozen times during my two-year service with the state of Indiana. Most of the time, it surfaced in subtle innuendos. This time, there was no doubt—I was unwelcome in Franklin.
My hurt was eased when I received a letter of apology from good friend Robert Martin, the past president of Franklin College, who said that he also was insulted by the arrogant and insensitive closing prayer. No such letter was written by the Franklin Chamber of Commerce. It did not take much research to learn that DuKate belonged to a small, right-wing evangelical church and sent his son to Robert Jones University, where, as Bill Martin said, people "have long closed their minds and dulled their hearts in the name of Jesus."
A couple of years ago I returned to Johnson County and spoke to its Community Foundation at the Franklin High School Performing Arts Center. I was warmly welcomed and enjoyed the visit. No sectarian prayer was offered.•
__________
Maurer is a shareholder in IBJ Corp., which owns Indianapolis Business Journal.  His column appears every other week. To comment on this column, send email to mmaurer@ibj.com.
Please enable JavaScript to view this content.