The White River State Park intends to buy part of the former General Motors stamping plant site and might build a concert venue there to replace The Farm Bureau Insurance Lawn.

The White River State Park commission has a green light from Gov. Mike Pence to buy 35 acres of the vacant industrial land from REI Investments, a Carmel-based commercial property management and development firm. REI was chosen by a Michigan-based trust last year to redevelop the entire 102-acre property.

REI pitched a $40 million concert venue for the eastern portion of the GM site and plans to sell 55 acres to the city of Indianapolis for a new criminal justice center.

An amphitheater could still come to fruition, but it would be under the state's ownership.

"We're definitely taking a very strong look at that," White River State Park Executive Director Bob Whitt said of the concert venue.

At the same time, Whitt said the commission will consider how the GM site should tie into west-side neighborhoods and White River State Park, which was built atop old industrial sites.

"I think we would be very open to community input," Whitt said. "It's about what's going to be there 100 years from now."

Whitt said the state has not settled on a purchase price with REI, but it likely would be in the low millions. REI has not closed on its purchase of the property from the Revitalizing Auto Communities Environmental Response, or RACER, Trust. RACER was established during GM's bankruptcy to prepare sites of former company plants for redevelopment.

REI President Mike Wells told IBJ he will pay about $80,000 per acre, which would put the cost of 35 acres at $2.8 million.

REI President Mike Wells plans to flip the GM property to the state.
Wells also expects to earn a profit, which he said could be a 3 percent to 5 percent development fee.

REI emerged as the front-runner in bidding on the former GM property in January 2014 with its plans for a 15,000-seat outdoor amphitheater that would rival Klipsch Music Center in Noblesville. Wells partnered with veteran concert promoter Dave Lucas.

Wells now thinks any amphitheater built on the GM site would seat around 10,000.

The RACER Trust and REI entered a purchase agreement last August. Wells must complete a project agreement assuring the trust that an amphitheater will be completed, though it doesn't matter by whom, he told IBJ.

REI still intends to sell land to the city for the justice center and will do so at cost, Wells said.

The state's purchase could take several more months. White River State Park commission can issue revenue bonds, but Whitt said he is awaiting word from the State Budget Agency about how exactly the land would be financed. The purchase price will be "minute" compared with the cost of building a permanent concert venue, Wells said.

"The governor blessed the commission in trying to put this thing together," he said.

The park will hire a consultant to weigh options on the size and location of the music venue, Whitt said. He declined to speculate about other ways the 35 acres could be used.

"I think the bottom line is, if the terms are correct and they get it done, we're going to grow the park, which is a very good move," said Sen. Jim Merritt, R-Indianapolis, one of several legislators with an advisory role to the commission.

Urban planner and architect Bruce Race agrees with preserving the riverfront land for public use. Otherwise, he said the state and city, with its courthouse and jail, are wasting a chance to create a dense urban neighborhood on the west side.

"Park space, band shell, then a tower facing the railroad tracks and a huge parking field," Race said of the state and city plans. "What a ridiculous outcome."

Race said RACER Trust lacks the patience and flexibility to work out a master plan for the entire 102 acres. "So now we got this dog's dinner outcome on a unique piece of property," he said.

Strategic purchase

White River State Park has been trying to figure out how to create a permanent music venue since 2008.

Because of that, the park is not under a long-term contract with Live Nation, which operates the Lawn, Whitt said.

It's unknown who would operate the music venue on the GM site. Whitt said he's in discussions with both Live Nation and Lucas.

Wells was aware of the park's long-term plans when he pitched the amphitheater for the GM site, but he said his intent was simply to fulfill a long-held vision of a large outdoor concert venue near downtown.

Lucas' former company, Sunshine Promotions, built Klipsch Music Center, originally named Deer Creek Music Center, in the late 1980s. "One of the biggest mistakes we made was letting that go out to Noblesville," Wells said of Indianapolis' opposition to the project at the time.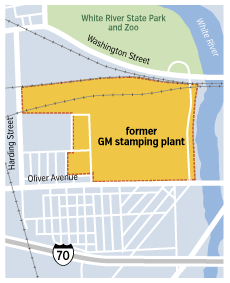 Wells said he and Lucas thought the new venue could put Klipsch Music Center out of business.

"We could compete effectively and at the end of the day we would show concertgoers would much rather go downtown than to a cornfield," he said. "We would prevail, but it would take a long time to get there."

Wells also anticipated that the new amphitheatre would cause White River State Park to cut programming of its Lawn venue, which has a capacity of about 5,000. He argued The Lawn is not a big money-maker for the park.

However, Whitt said last year was the best yet for The Lawn, and that the park netted $400,000 from concerts and events. "It goes to reducing what otherwise would be taxpayer burden in us doing what we do to keep everything going here at the park," he said.

Timeline of a deal

Last February, after IBJ reported REI's plans for a concert venue, the commission voted to pursue a $10 million upgrade to The Lawn, as proposed by Live Nation.

Six months later, however, Wells and park officials began considering the GM site as an alternative location for the permanent venue.

Wells said he began to see the difficulty of convincing lenders he could go head-to-head with a concert industry behemoth like Live Nation, based in Beverly Hills, California. He knew that White River State Park wanted a permanent venue, but in his opinion, it wasn't possible without using up the last of the park's green space.

Wells said that in July he invited Whitt out for a drink to talk about a partnership. Wells described his pitch as such: "I've got the answer for you; just come across the river."

Then on Aug. 20, shortly after he took the GM property under contract, Wells made a presentation to the park commission.

No rezoning hurdles

Wells would have faced fierce neighborhood opposition to rezoning the GM site for concerts, but White River State Park won't have that problem. As a state entity, it's not subject to local zoning, said Rep. Justin Moed, D-Indianapolis, whose district covers the GM site and most of downtown.

Moed, who by virtue of his position is a non-voting member of the park commission, said he's expressed his hope that the state will conduct a transparent planning process for the GM site.

White River State Park always wanted to acquire the GM site, Whitt said. The fact that the state could end up buying the land from a private developer begs the question: Why didn't park officials submit a bid to RACER Trust?

After talking to RACER representatives in 2013, Whitt said he realized they were looking for buyers with definitive development plans.

"REI's proposal, in our view, maximized the property's redevelopment potential and best aligned with RACER's sales criteria, as established by the U.S. Bankruptcy Court in its order creating RACER," a trust spokesman said via email.

Wells said he sees no ethical problem with his flipping the GM property to the state at a profit. "We've spent a lot of hours on this."•