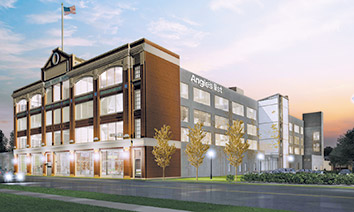 The Indianapolis City-County Council on Monday night voted unanimously to delay a decision on whether to issue $18.5 million in bonds to support the expansion of Angie's List Inc.'s east-side headquarters.
The council sent the proposal back to committee, marking the second time a decision on the issue has been delayed. The next possible date it could come up for a full vote is March 30.
The proposal was passed 7-1 with bipartisan support by a the council's Metropolitan and Economic Development Committee on Feb. 23.
Under the plan, most of the bond money, $9.6 million, would go toward construction of a parking garage to serve workers in the former Ford manufacturing building on East Washington Street. Angie's List would pay nothing for the building, which is owned by Indianapolis Public Schools. The company intends to invest $23 million to renovate it as a headquarters.
The company said it will hire about 1,300 more people and have 2,800 people on the payroll by the end of 2019.
Angie's List also would own the 1,300-space garage, though as many as 500 spaces could be made available to the city if the garage is underutilized by the company.
"It is the City-County Council's job to be prudent with taxpayers' money, and councilors are just doing their jobs," Angie's List CEO  Bill Oesterle said Monday night in a written statement. "We appreciate their due diligence in this matter so that they may make an informed decision about a development that will have a lasting impact on the near-east side of downtown Indianapolis. While we were hoping for an affirmative response tonight from the City-County Council, we appreciate their attentiveness to this project."
 
Please enable JavaScript to view this content.