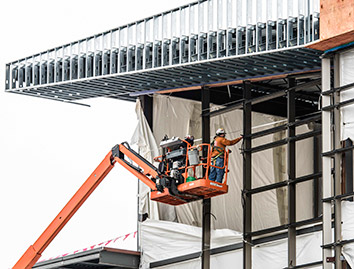 A spate of large real estate projects in the pipeline for downtown is providing a shot in the arm for a local construction industry still rebounding from the recession.
Five developments on the east and south sides of downtown, in various stages of construction and planning, total almost $250 million—a nice chunk of change by any standard.
Even collectively, though, they pale in comparison to the last major downtown project—the $754 million Eskenazi Health hospital that opened in December 2013.
But given the dearth of local projects of that scale, and the slow pace of the economic recovery, local construction leaders welcome the much-needed boost the developments are providing.

Dilts
"All of a sudden, people are getting their plates full with good work again," said Mike Dilts, CEO of Shiel Sexton Co. Inc., the city's fourth-largest construction contractor.
The activity kicked off in July, when the YMCA of Greater Indianapolis began building a $22 million, 87,000-square-foot fitness center across the street from the CityWay development on the south side of downtown. Two months later, IndyGo commenced work on its $20 million, 14,000-square-foot transit center on East Washington Street south of the City-County Building.
Now, in the next month or so, Flaherty & Collins Properties is set to begin building 360 Market Square, a $121 million, 28-story apartment tower, while Cummins Inc. starts construction just south of that project on its $30 million, 10-story distribution headquarters. Both projects will be built on adjacent surface lots where Market Square Arena once stood.
And by the end of the year, Louisville-based 21c Museum Hotels expects to start on a $55 million project that includes a 150-room hotel to be built on a surface lot north of Old City Hall, which will be redeveloped into public space and an art gallery.
"We love it," said John Griffin, president of the Central Indiana Building Trades Council. "But even though there looks like there's a lot going on, we could use a lot more."
Both union and merit-shop workers should benefit.
Shiel Sexton is general contractor on the YMCA project, where up to 100 union and non-union workers are on site at any given time, Dilts said. At the IndyGo transit center, which is federally funded, the city needs to pay prevailing wage. About 50 union and non-union workers are on site daily.
Because Flaherty & Collins is receiving up to $23 million in city incentives to build 360 Market Square, the local developer signed a commitment that 30 percent of the workers on the job be from the Indianapolis area.
Construction experts don't foresee that as a problem. It might have been a concern before the recession, when a building boom attracted out-of-state workers to fill job shortages, but not now, even with the other projects competing for labor.
"There might be some strain, but it's certainly not at a crisis level," Dilts said. "We absolutely have the labor force to handle it."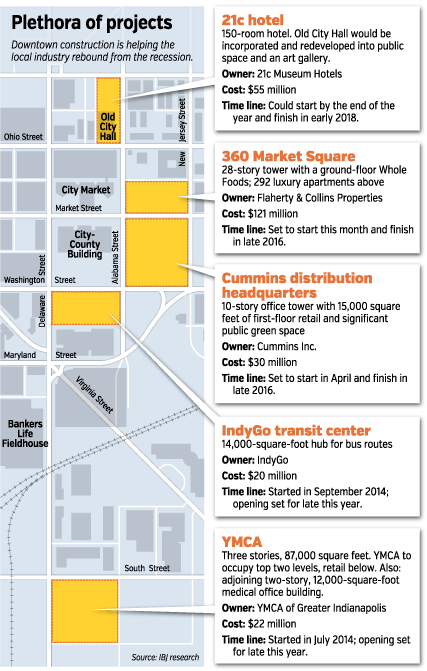 The recession and the toll it took on construction might have weeded some workers out of the industry. But the city for years has feasted on a steady diet of large construction projects, helping to maintain a strong local construction workforce, experts said.
Among the big projects: the Indianapolis International Airport's midfield terminal, Lucas Oil Stadium, the Indiana Convention Center expansion and JW Marriott hotel. Since Eskenazi Health opened 15 months ago, a slew of downtown apartment projects has helped tie over construction firms.
"That's been a major boost for many of our members," said Scott Grimes, executive director of the Indiana Subcontractors Association.
The big prize everyone in the construction industry is coveting is the criminal justice center, which the city plans to build on part of the former General Motors Stamping Plant site on downtown's west side.
The $408 million complex, which would be funded by private-sector investors through a public-private partnership, remains on the table, though chances the City-County Council will approve the plans this year are looking slim.
A handful of councilors from both parties now are saying any action on the complex should be delayed until after the municipal election in November.
A project labor agreement would govern the construction of the center, much to the displeasure of J.R. Gaylor, president of the Indiana-Kentucky Associated Builders and Contractors, which represents non-union shops. PLAs generally require paying union wages and abiding by other union conditions in return for a guarantee of labor peace and on-time completion.
"We've continued to voice our concern about that," he said. "Based on the history of other PLAs in Indianapolis, they really add unnecessary costs."
Regardless, local construction leaders are optimistic about the future.
"I hope there are some tower cranes in the air downtown," Dilts said. "That's what the city is missing right now."
Outside Indianapolis, a major project is under way near Martinsville. Indianapolis Power & Light Co. broke ground in September on its $600 million power station. Construction on the plant is expected to employ as many as 660 workers.•
Please enable JavaScript to view this content.