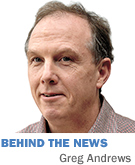 Simon Property Group Inc. CEO David Simon and Macerich Co. CEO Arthur Coppola both grew up in the mall industry, with each taking the reins of his respective company in the mid-1990s.
"I always thought they were pretty close," said Rich Moore, an analyst at RBC Capital Markets in Solon, Ohio. "What I am seeing today does not make me think I was right. But business is business."
Indeed, David Simon, 53, is doing everything he can to make Coppola, 63, squirm, going public on March 9 with a $22.4 billion offer to buy Santa Monica, California-based Macerich and its more than 50 malls.
Simon met with Coppola in late February to express interest in buying Macerich (pronounced "Mace-rich"). He said in a letter to Coppola on March 9 that he opted to issue a press release because "well over a week" had passed with only silence. "I am disappointed you have not gotten back to me as you said you would," Simon wrote.

Coppola
David Simon has a history of playing hardball to complete deals, and he has an enviable record of coming out the winner. Since his Indianapolis-based company went public in 1993, it has completed nearly $40 billion in mergers and acquisitions, 10 of them for over $1 billion. To seal one purchase in the 1990s, David Simon reopened negotiations in the middle of the night—after the chairman of a competing company went to bed, thinking he had prevailed.
Analysts say Simon has reason to covet Macerich, which would be his biggest purchase yet. The company owns a trove of top-performing malls—Class A properties in real estate parlance. Owners of such properties have the upper hand in lease negotiations because retailers are almost desperate for outposts in malls packed with well-heeled shoppers.
Some of Macerich's best properties include Tysons Corner Center in Virginia and Santa Monica Place in California.
Simon already owns some of the nation's premier malls—including Forum Shops in Las Vegas and Roosevelt Field in New York. It stepped up its focus on the high end last year by spinning off its strip centers and smaller malls into a new publicly traded company.
That move helped push up average sales per square foot at Simon's remaining 177 U.S. malls and outlet centers to $619, far above the $478 average for the U.S. mall industry, as reported by the International Council of Shopping Centers.
Macerich also blows away the average, with its top 40 properties posting sales per square foot of $618, according to a report from Stifel Nicolaus & Co. analyst Nathan Isbee.
"Class A malls don't trade," Moore said. "It is very, very rare that one comes on the market, and here would be the chance to get your hands on a bunch of them. You might argue this is a once-in-a-lifetime kind of thing."

Simon
Simon's March 9 offer was $91 a share, a 31-percent premium to where the stock was trading on Nov. 18, one day before Simon's announcement that it had accumulated a 3.6-percent Macerich stake caused shares to spike. The deal includes cash and stock worth $16 billion, along with $6.4 billion in assumed debt.
But analysts are sure Simon will have to go higher, perhaps even breaking $100 a share. And even then it's unclear whether the Macerich board would bite. The board and top brass might argue that, after shedding lower-performing malls in recent years, Macerich is poised for breakout performance—paving the way for robust returns for shareholders if the company remains independent.
Complicating Simon's quest is a stipulation in Macerich's bylaws that no shareholder can acquire more than a 5-percent stake without the company's consent.
Simon might try to overcome that limitation by nominating its own slate of directors at the Macerich annual meeting this spring. The Simon nominees, if elected, could vote to remove the ownership cap, UBS analyst Jeremy Metz said in a report.
On the other hand, Metz said, Macerich could block that move by exercising its right to switch from electing its entire board annually to staggered board elections, though doing so might spur a shareholder backlash.
In short, he said, "This could get ugly."
In an interview with Bloomberg, Sandler O'Neill & Partners analyst Alexander Goldfarb added: "The deal makes sense, but it takes two to tango, and you have to have a willing seller."•
Please enable JavaScript to view this content.