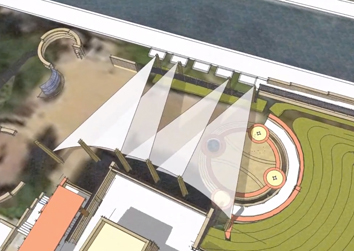 The Eiteljorg Museum of American Indians and Western Art, like its neighboring White River State Park attractions, faces south. But with foot traffic on the adjacent downtown Canal making up a largely untapped market, the museum is initiating a $400,000 upgrade in hopes of livening up its north side.
 
The new structure, made possible by the Efroymson Family Fund, the Indianapolis Foundation, and the Steve Cagle Family, consists of a quartet of four triangular, 60-by-30-foot sails hung from 10 structural beams.
Shading the existing Christel DeHaan Family Terrace, the structure will allow for more canal-side programming, including concerts, storytelling, art projects, poetry readings and interactive activities. A panning-for-gold activity station for kids, for instance, will help enhance the current "Gold!: Riches and Ruin" exhibition in the museum.   
"Through regular programming—most of it open to the public at no cost—we hope to attract people walking along the Canal into our gardens to explore sculpture, take a snack break, maybe listen to music or storytellers," said Eiteljorg President John Vanausdall. "Our hope is that those visitors will learn more about us and be encouraged to visit again in the future."
The new elements were designed by Jonathan Hess of Browning Day Mullins Dierdorf, which also designed the Eiteljorg building more than 25 years ago. F.A. Wilhelm Construction Co. is the general contractor.
Programming making use of the structure will include a celebration on June 20 of the 150th anniversary of Juneteenth, commemorating African-American emancipation, Wednesday night Jammin' in July concerts, and a Jorgstock festival of indie bands on July 11.
"We want to play a larger role in making the canal come alive," said Vanausdall.  
 
Please enable JavaScript to view this content.