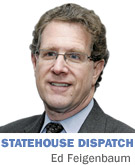 Legislation continues to move through the process, with several measures heading to the governor for signature even as the larger issues remain unresolved, and fretting continues over just how flush state finances will look in April's revenue-forecast update.
The session has not been particularly remarkable on any counts.
This year has not been marked—or marred—by any of the events of the past decade that threw legislators off their game.
The social issue generating the most debate this year, the "Religious Freedom Restoration Act" (Since when did we emulate the recent congressional practice of naming bills?) hasn't provoked the degree of emotional response as arguably similar recent bills and resolutions. Ditto for the year's big issue affecting organized labor, the effort to repeal the common construction wage.
We've not seen the process disrupted by a late-breaking issue or specific bill (although some are waiting for the amendment shoe to drop) as in recent years, often centered on an Indianapolis-centric matter. The sole surprise dumped on lawmakers has been student test-length problems, quickly resolved by bipartisan resolve.
Yes, there have been major partisan splits, such as over education governance issues, but even with legislative supermajorities, not all caucus members are united.
As legislative majorities grow, more solons hail from politically marginal districts. Drawing "favorable" maps means districts are not as homogenous as if drawn for geographic reasons, and members representing these districts (such as rural areas in Lake and Allen counties, which extend into small pockets of urban votes) might not necessarily share the same outlook as colleagues from safe seats.
Hence, you will not see a united Republican House caucus on matters such as education governance, K-12 funding formulas and common construction wage, among others.
The session's pace has been difficult to judge, with committee hearings and floor action in the first half not aimed at front-loading bills to ensure key items didn't get hung up in disputes over other bills. Nor was there obvious back-loading of legislation, where leaders waited to take the pulse of members and line up support for other key measures.
The flow didn't feel totally smooth, either, and that sense carried over when bills crossed the Rotunda.
With fewer bills requiring committee hearings in the session's second half, committee chairs find it easier to schedule items. One exception: the Senate Committee on Appropriations, which must perform the heavy budget lift after endless hearings on subject areas, agencies and line items.
The Senate Committee on Tax and Fiscal Policy also has a full regimen of important tax policy measures (including major agricultural land and "big-box" business property tax assessment bills and the "double-direct" manufacturing tax) to cull through. The committee also has the common construction wage repeal bill.
Some of the calendar management concerns in a given session revolve around other procedural concerns, as well.
Leaders may allow bills to be amended early to keep a concept alive or, sometimes, to kill it.
The gambling bill may have waited until its March 18 hearing in anticipation of an environmental-impact statement in Pokagon Band of Potawatomi's quest to open a casino and tribal village in South Bend. A major annexation measure may have been detained to promote compromise between those most affected.
A bill that seems unworthy of survival might move through the process simply as a home to a related concept in a floor amendment or in conference committee deliberations.
Bills with a fiscal impact might be weeded out for late consideration to ensure they can be accommodated under expected revenue conditions, and that they fit within an overall rubric to be worked out between legislative leaders and the governor.
So as the process unfolds, bear in mind there might be procedural reasons that are not always obvious underlying—and affecting—the legislative calendar.•
__________
Feigenbaum publishes Indiana Legislative Insight. He can be reached at edf@ingrouponline.com.
Please enable JavaScript to view this content.