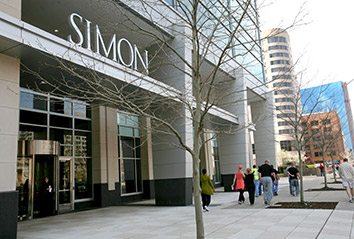 Simon Property Group Inc. raised its unsolicited takeover bid for Macerich Co. to about $17 billion after the mall landlord said a previous offer undervalued the company.
Simon offered $95.50 a share in what it described as its "best and final bid," up from $91 on March 9, the Indianapolis-based company said in a written statement Friday morning.
The total value of the offer is about $23.2 billion, including about $6.4 billion in debt, up from about $22.4 billion.
By buying Macerich, the largest U.S. mall owner would expand its holdings on the West Coast and add top-tier properties that rarely come up for sale. The offer will be withdrawn if Simon is unable to meet with Macerich to negotiate terms of an agreement by April 1.
"We believe our offer is compelling and will deliver significant and immediate value to Macerich shareholders," Simon CEO David Simon said in the statement. "We encourage the Macerich Board to give our proposal the serious consideration it deserves and to take into account the views of Macerich shareholders.'
Macerich has rebuffed Simon's efforts so far. The Santa Monica, California-based company said on March 17 that it's staggering the election of directors, which would make it more difficult to oust the board, and adopting a ''poison pill" defense that raises the price Simon would have to pay because more Macerich shares would be issued.
Simon also said it would not nominate directors to Macerich's board.
In its own statement, Macerich confirmed it received the new proposal and said its board will review it with its financial and legal advisers.
Macerich resistance
"At this point it's back in Macerich's court," said Jeffrey Langbaum, a REIT analyst with Bloomberg Intelligence. "Either they say 'OK, let's talk,' or 'No, thank you, that offer's not high enough.'"
Macerich shares fell 7.3 percent, to $86.64 each Friday morning, indicating investors expect a deal won't be reached. Simon has been the only company to publicly made a bid.
"The market's indicating that the company is gearing up to pass on the bid," David Auerbach, an institutional REIT trader at Esposito Securities LLC in Dallas, said.
Simon shares rose 1.3 percent, to $194.63.
In rejecting the earlier offer, Macerich said Simon's bid failed to reflect the full value of its assets and its growth prospects. The company said it plans to spend $400 million to $500 million annually on development projects over the next five years "that it expects will materially enhance stockholder value."
Mall owner
Macerich owns or has stakes in more than 50 malls, including Tysons Corner Center in Virginia, Fashion Outlets of Niagara Falls in New York and Santa Monica Place in Southern California.
Macerich shareholders would have received the equivalent of $91 a share as 50-percent cash and 50-percent Simon stock under the first proposed deal. The transaction would have been valued at $16 billion at the time, not including the assumption of about $6.4 billion of debt. In connection with the completion of the proposed buyout, Simon agreed to sell certain Macerich assets to Chicago-based General Growth Properties Inc., the No. 2 U.S. mall landlord.
That takeover offer represented a 30-percent premium to Macerich's closing price on Nov. 18, the day before Simon disclosed it had taken a 3.6-percent stake in Macerich. Simon said on March 9 that it had made multiple attempts to discuss its interest, and Macerich refused to engage in talks.
Before Simon disclosed its Macerich stake last year, Macerich said it bought the shares of five U.S. shopping malls it didn't already own from a subsidiary of the Ontario Teachers' Pension Plan Board for $1.89 billion, including the assumption of debt. The purchase price included $1.22 billion of stock issued to the pension plan, or an ownership of almost 11 percent, at $71 a share.
Macerich, founded in 1964 in Ames, Iowa, by Mace Siegel, has also been upgrading its centers, similar to what its mall-landlord peers are doing. Macerich said in a November investor presentation that it can get 8-percent to 10-percent returns on redevelopment and expansion projects. Other possibilities for adding to its properties, such as purchases, buyouts of joint ventures and ground-up development, are limited, the company said in the presentation.
Simon Property, which acquired an interest in European mall owner Klepierre in 2012, hasn't always been successful in trying to complete deals. The REIT failed in an effort to take over General Growth after its smaller competitor filed for bankruptcy in 2009. General Growth left bankruptcy in November 2010 with financing from a group that included Brookfield Asset Management Inc. and Pershing Square Capital Management.
More than a decade ago, Simon and Westfield America Inc. tried to take over Taubman Centers Inc., a luxury-mall owner based in Bloomfield Hills, Michigan. The unsolicited offer was dropped after Michigan enacted a law that let the Taubman family block the transaction.
 
Please enable JavaScript to view this content.