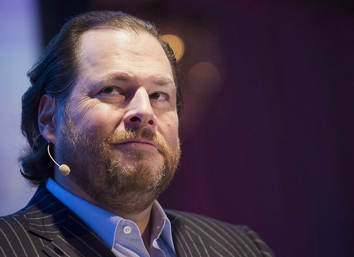 Salesforce.com CEO Marc Benioff said on social media Thursday morning that he was canceling corporate programs that require travel to Indiana in response to the "religious freedom" bill signed into law by Gov. Mike Pence just hours earlier.
Benioff made the announcement in a tweet, saying: "Today we are cancelling all programs that require our customers /employees to travel to Indiana to face discrimination."
Benioff and Salesforce spokespeople didn't immediately respond to questions about what kinds of programs would be canceled. In 2013, the San Francisco-based cloud marketing firm acquired Indianapolis-based ExactTarget for $2.5 billion. Salesforce's ExactTarget division still employed about 1,000 people in Indianapolis as of last fall.
In September, the company announced it was moving its annual Connections conference from Indianapolis to New York.
On Wednesday, Benioff announced that the "religious freedom" bill would force the company to "dramatically reduce our investment in Indiana." Last year, he told IBJ about his ambitions to build a Salesforce tower in Indianapolis.
The "religious freedom" legislation, Senate Bill 101, prohibits any state laws that "substantially burden" a person's ability to follow his or her religious beliefs. Its definition of a person includes religious institutions, businesses and associations.
Groups supporting the measure say it would prevent the government from compelling people to provide services such as catering or photography for same-sex weddings, or other activities they find objectionable for religious reasons.
Opponents say such a law could provide legal cover for discrimination against gay people.
 
Please enable JavaScript to view this content.