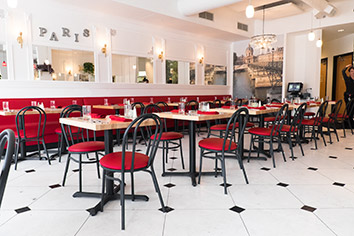 Crapshoot et Vestibule.
Croupier et Bedouin.
Even before Cropichon et Bidibule (735 Massachusetts Ave., 737-2772) opened, I heard its moniker being playfully mocked. (Don't bother dusting off your French-English dictionary—the name actually comes from the owners' nicknames for their kids.)
However the name is mangled, I say vive la difference when it comes to eateries on Mass Ave, especially when a new taste in the area is presented in such a bright, fun way. (OK, so the scale-model Eiffel Tower is a tad tacky.)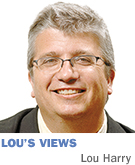 The food, a few weeks after the restaurant's premiere, showed signs of promise and signs of work to be done. Starting points: five Charcuterie options ($12), including braised Maple Leaf Farms duck; cured ham from Parma, Italy; and a rabbit/cured bacon Pate de Lapin. There's also an assortment of Formages ($8) that encourage sharing and wine sipping. Bypassing both, I went with a Gruyere-heavy Soupe a l'oignon ($6), offering an excellent appetizer—nearly an entree, actually—with broth as satisfying as the hearty cheese-and-onion bites.
I was new to galettes—essentially buckwheat flour crepes—and was pleased with La Galette Saumon ($11), a smoked-salmon variant. Oh, it didn't look like much on the plate, but a fork full combining the title fish with crème fraîche and leeks and a piece of the crepe made for a light, pleasant entree. Quiche Lorraine ($10) with house-cured bacon and organic eggs was more compact than is usual, a dense tart that didn't compel completing.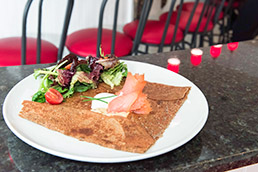 La Galette Saumon is an open-faced buckwheat crepe. (IBJ Photo/ Eric Learned)
You'd think the La Crepe au Chocolat ($7), a chewy chocolate ganache crepe, would prove a meal highlight. Instead, it was acceptable but by no means exceptional. Like the galettes, the crepes are available in traditional open-faced style or rolled "street style"—the better for eating as you stroll Mass Ave.
We ended on a high note, with the Tart Bourdalous ($8), a baked pear- and almond-filled tart garnished with additional pear slices and Chantilly cream. Craving an after-show treat? This is enough of a reason to stop in. And, FYI, kids are welcome. Among the usual chicken-strip offerings, a Kids Crepe ($6) is available, which includes fresh fruit.
Addendum: While I usually avoid mentioning isolated server faux pas, I think it's fair to say that it's never, ever, ever wise to assume a relationship between the parties at your table. Having a lunch with an unrelated fellow professional end with, "I hope you enjoyed your meal, Mr. and Mrs. ___________" is a grosse erreur.•
—Lou Harry
Please enable JavaScript to view this content.