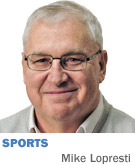 As Susan Baughman from the Indiana Sports Corp. said over the phone …
"It's crunch time. It's happening."
The Final Four is so close, you can almost hear the trombones in the pep bands. Look around downtown. Charles Barkley is seven stories tall on the side of Pan Am Plaza. A huge NCAA sign covers the glass panels on the north end of Lucas Oil Stadium, next to the picture of Reggie Wayne. The tournament bracket on the side of the JW Marriott stretches for 17 floors. Wofford College may never have had its name so large.
It seemed a good time to dial up the operations folks to see if there is any 11th-hour crisis we should know about.
"Not unless you know something I don't," Baughman said. "I'm feeling pretty good about things."
During the past week, the senior vice president of strategy and operations has been busier than a Lexington bookie taking Kentucky money. The NCAA might be on line 1, a hotel manager on line 2, the police with a security question on line 3. At this point for a host organization, communication is the make-or-break issue.
"I'm constantly making sure we're updating everybody," she said, "so we can all act as one."
As this is being written, we don't know what four teams are coming. We know it won't be Purdue, like 1980. Or Butler, like 2010.
We know it won't be Indiana. The Hoosier masses are now immersed in that time-honored pastime of debating whether it should be thumbs-up or thumbs-down on the coach. Apparently to some, the loss to Wichita State was the last straw. How can losing by five points to a team that had won 67 of its previous 73 games be the last straw? But we digress.
Baughman, of course, is hesitant to say she prefers one team over another to be her city's guests. One team fan base's money is as good as another's. But the jackpot would be Kentucky, because the Big Blue army is larger than Canada's. Thousands of Wildcat fans would come up interstates 74 and 65 without tickets, but they'd still bring their wallets.
Whoever makes up the Final Four, Indy is ready. Ah, but there is one major potential snafu that can't be solved with a committee meeting. To help with the communications effort Baughman mentioned, I am sending the following message to another entity, whose opinion will have a major impact on the Indianapolis Final Four:
National Weather Service, could we have a word?
I was just looking around downtown Indianapolis, and there is cause for concern. Oh, the decorations are impressive, and preparations seem in order. Notice all the metal do-dads at White River State Park, to be constructed for the free concert series, featuring a gaggle of famous performers. Not that I would know many of them, but that's a subject for another day.
Here's the glitch: the weather. I thought for a minute I was out Christmas shopping. Snowy, gray, depressing, chilly wind blowing, the water choppy on the canal. Even the ducks looked cold.
Baughman noticed it, too.
"It was sleeting on me," she said, "and I thought, 'Go ahead; sleet on me today. That's fine.'"
But not a few days from now. One big reason Indianapolis is a Final Four smash hit as a host city is because downtown is always a big party. Fans wandering here and there, and everything walkable.
"It's like spring break when it's nice," Baughman said. "That's what it felt like in 2010, like everybody was on spring break in downtown Indianapolis. It makes it all the more fun."
I call it the Seattle Syndrome. I was at the Final Four in Seattle in 1984, and everyone loved it. It was beautiful. It was charming. It was sunny. Big, big success. Five years later, the Final Four returned and the response wasn't nearly so upbeat. The city had the same facilities and put forth the same organization and hospitality, but one thing was different. It rained. And rained. And rained.
I know you don't make the weather there at the office, and this is like killing the messenger, but no funny business next weekend, right? No forecasts of clippers, or cold fronts or rapidly developing low-pressure systems. There's an event for 3,000 kids to dribble around downtown, and a 5K run, and all that music in the park, and the Fan Fest. Baughman said the goal is to break attendance records for all of them, so it'd help if visitors and locals alike weren't drenched and their teeth weren't chattering.
The city is eager, so this is not the time for pessimistic words from the isobar set. If you can't say something nice about the weather forecast the next few days, don't say anything at all.•
__________
Lopresti is a lifelong resident of Richmond and a graduate of Ball State University. He was a columnist for USA Today and Gannett newspapers for 31 years. He can be reached at mlopresti@ibj.com.
Please enable JavaScript to view this content.