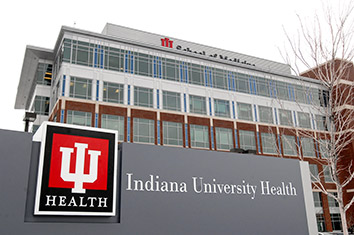 One of the leaders of the effort to unionize nurses at Indiana University Health's downtown hospitals was fired Monday, according to four separate IU Health employees.
Lacie Little, 29, was one of two nurses quoted in an IBJ story that broke the news of the attempt to organize a nurse union. That story was published Saturday, two days before Little's dismissal.
The day after Little's firing, the United Steelworkers, the union working with the IU Health nurses, filed an unfair labor practices charge, according to a spokeswoman at the  National Labor Relations Board.
The charge alleges that IU Health has interfered with its employees rights to organize a union and has discriminated against its employees in an effort to discourage the formation of a union.
Little, who had worked at IU Health for five years, declined to comment. So did Heather Bragg, another IU Health nurse who has helped to lead the union-organizing effort.
A phone message left for Ted Sautter, the United Steelworkers organizer working with the IU Health nurses, was not returned Wednesday morning.
Whitney Ertel, a spokeswoman for IU Health, would not confirm Little's firing, saying "IU Health does not discuss employee discipline cases."
"I can confirm," Ertel added, "that we have not, and will not, discipline any team member for exercising his or her rights under the National Labor Relations Act. As a condition of employment, team members are required to adhere to IU Health policies and procedures at all times."
In a March 25 interview, Little said she hoped the formation of a union would allow IU Health's business executives and nurses to work together to find the best ways to keep patients safe and improve their experience.
"We want this to be a joint effort of the nurses and the management," Little said.
Little was part a 70-nurse organizing committee at IU Health, which is passing out petition cards for nurses' signatures. If it gains enough support, it could hold a vote in the second half of April or in May.
There are more than 3,200 nurses at IU Health's three downtown hospitals: Methodist, University and Riley Hospital for Children.
IU Health officials characterized the union as unnecessary.
"While IU Health believes that team members are free to explore the formation of labor unions, our nurses have a shared governance model that helps nurses express ideas or concerns and work together for improvement. We don't need a third party to facilitate these discussions and, in fact, a third party will reduce the effectiveness of this open and direct communication," stated talking points distributed last week to IU Health physicians by Chief Operating Officer Dennis Murphy.
"Team members do have a right to explore unions and to organize and join one," the talking points said. "They also have the choice to not join and voice their opinion. Either way we want to make sure that any activity related to organizing is not interfering with patient care."
 
Please enable JavaScript to view this content.