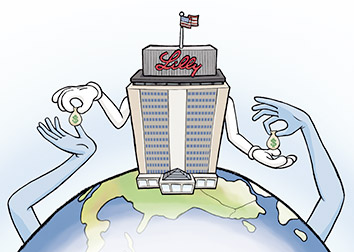 It used to be that corporations kept their money-making strictly separate from their philanthropy.
But Eli Lilly and Co. is trying to combine them.
The Indianapolis-based drugmaker thinks giving money and resources to build health care systems around the world can also grow the market for its prescription drugs. Both outcomes would help Lilly accomplish its overall mission of improving human health—while improving its bottom line.
"These are the kinds of things that lift up whole systems and whole communities, and we can benefit from that," said Rob Smith, president of Eli Lilly and Company Foundation. "As we think about our role in the world, we want to improve global health in the 21st century. That means new medicines for unmet medical needs, such as our Alzheimer's drugs we're trying to develop. But we also want to think compassionately about people that don't have access to adequate health care or our medicines right now."
Lilly has not abandoned the traditional philanthropic ways of "giving back": cutting checks to scores of local organizations and donating medicines to disaster victims. But Lilly's thinking now focuses less on what it calls social responsibility and more on what it calls shared value.
Lilly's shift, which began about four years ago, was inspired by new thinking among business leaders nationally. That's because business researchers for the past 20 years—from Jim Collins to Michael Porter to Mark Kramer to Rosabeth Moss Kanter—have documented that the most successful companies use good business practices to achieve social good.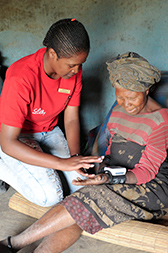 Lilly employees participate in hut-to-hut health screenings in the eastern cape of South Africa, measuring blood pressure and blood sugar and testing for infections. (Photo courtesy of Eli Lilly and Co.)
In one example, Lilly is spending $30 million and sending teams of employees as volunteers to improve health care systems in emerging markets such as India and South Africa.
Helping the countries take better care of people with chronic diseases will improve their health. But the increased awareness of conditions like diabetes could also boost the number of patients taking Lilly's diabetes medicines.
Likewise, Lilly's Elanco subsidiary has enlisted its 7,000 employees to spend at least one half-day of work every quarter volunteering to provide food to hungry residents in the United States and abroad. Elanco hopes
the work not only helps the people in need but also encourages government and corporate leaders to support its mission to use animal drugs to increase agriculture productivity to feed the roughly 1 billion people worldwide who go hungry.
Closer to home, Lilly has made education reform its main cause in Indianapolis because, it believes, having a stronger education system will fill Indianapolis with more talented individuals who can work for and with Lilly to run its business.
Last year, after Mayor Greg Ballard proposed a $50 million preschool program, Lilly took the unusual step of inserting itself into the ensuing political debate by donating $2 million to the effort—even while the City-County Council was still hotly debating the idea.
"We immediately looked at each other here and said, 'We need to support that,'" said Lilly CEO John Lechleiter. "We had come to believe—as a company that depends mightily on having a strong, healthy community around us—that K-12 is our community's Achilles' heel."
Clarified philosophy
Lechleiter spurred Lilly's change in philanthropy in September 2009 when he reorganized to broaden the company into five business units—a painful process that included laying off more than 5,500 employees.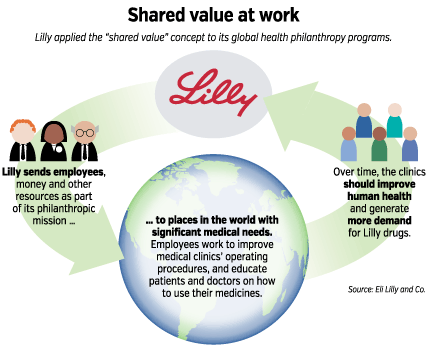 Lechleiter and the rest of Lilly's executive committee—which serves as the board of Lilly Foundation, told Smith to rethink how the company was handling the $78 million it holds in its charitable foundation.
Lilly and its foundation are separate from the Indianapolis-based Lilly Endowment.
"The view at that time was that, while the foundation certainly did a lot of good, that we needed to be more purposeful with the way we were approaching 'corporate philanthropy,'" Lechleiter said, "and try to move away from the notion of being a funder of community programs and more toward an organization that could partner with organizations to make a bigger difference in the community."
More than a year later, Smith stumbled upon an article by Porter and Kramer titled, "Creating Shared Value." That article, later named the most influential Harvard Business Review article of the year, became the basis of Lilly's new efforts.
Porter and Kramer wrote that "most companies remain stuck in a 'social responsibility' mind-set in which societal issues are at the periphery, not the core. The solution lies in the principle of shared value, which involves creating economic value in a way that also creates value for society by addressing its needs and challenges. Businesses must reconnect company success with social progress. Shared value is not social responsibility, philanthropy, or even sustainability, but a new way to achieve economic success. It is not on the margin of what companies do but at the center."
Likewise, Porter's Harvard Business colleague Rosabeth Moss Kanter studied corporations in 20 countries and found that the most admired and financially successful companies—Procter & Gamble, PepsiCo, IBM, Mahindra, Cemex—were pursuing strategies aimed at social good.
In another 2011 Harvard Business Review article, Kanter wrote that "companies are more than instruments for generating money; they are also vehicles for accomplishing societal purposes and for providing meaningful livelihoods for those who work in them. According to this school of thought, the value that a company creates should be measured not just in terms of short-term profits or paychecks but also in terms of how it sustains the conditions that allow it to flourish over time."
Lilly hired Kramer's firm, FSG, as a consultant. Lechleiter is scheduled to speak in May at FSG's annual Corporate Shared Value Summit.
Lechleiter stressed that Lilly's shift has not been a complete about-face. The company will continue to make major contributions to local organizations, such as the United Way of Central Indiana, Indianapolis Symphony Orchestra and scores of others.
Lechleiter also noted that the "shared value" concept was not entirely foreign to Lilly before Porter and Kramer's article, but rather helped crystallize the company leaders' thinking about philanthropy that was evident in previous decisions.
For example, in 2003, Lilly launched what has become a $170 million commitment—the largest philanthropic project in its history—in which it gave the manufacturing know-how it had developed making antibiotics to more than 20 organizations globally so they could produce drugs for multi-drug-resistant tuberculosis.
That effort has brought Lilly no revenue, but it certainly brought good will in countries around the world where tuberculosis is a major health issue.
"Health ministers in these countries where we operate these MDRT programs are very aware of these programs," Lechleiter said. "We're seen as committed to solving challenges, as an enterprise that is respected and is given the continued right to operate in these territories."
Seeing is believing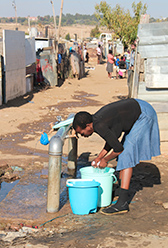 Lilly workers volunteer at a chronic disease health clinic in the informal community of Zandspruit, South Africa, where many of the 70,000 residents lack electricity, clean water and sanitation. (Photo courtesy of Eli Lilly and Co.)
Lilly's new thinking on philanthropy has also been a way to engage its employees more in its broader mission of improving human health.
It started a program called Connecting Hearts Abroad that sends 100 to 200 employees each year for two weeks—with pay—to an area of significant medical need. Lilly volunteers from all over the world have done company-paid service work in Brazil, Costa Rica, Ghana, Guatemala, India, Morocco, Peru, South Africa, Tanzania and Thailand.
Lilly spends about $5,000 for each person it sends abroad, but the company views it as a great way to engage its employees in the broader mission of the company.
"We want to develop new medicines to meet unmet needs—those are not just phrases; I've seen the unmet need," said Amy Sousa, a communications specialist who traveled to South Africa in 2013 to serve at a clinic outside Johannesburg run by the not-for-profit group Project HOPE.
The clinic operates amid a community of shanty homes, with trash and raw sewage in the streets. It provides the kind of holistic care that is key for treating chronic diseases anywhere. The clinic employs community workers who encourage residents to come in for testing and care, then follow up with people, getting to know their circumstances and the barriers they have for staying healthy. The clinic also provides a community garden, exercise classes, and even savings programs for residents.
Lilly has sent doctors, pharmacists, diabetes educators and communication specialists who have worked with clinic staff to improve pharmacy and lab operating procedures, develop information sheets for patients to describe why it's important for them to take their medicine, and to help with the clinic's efforts to educate other health professionals.
Spreading the word
Sousa was part of a group of Lilly employees who went door-to-door in the community, called Zandspruit, to encourage residents to come in for blood sugar testing. She also helped set up a tent in the marketplace to ask shoppers to get their blood tested.
"A woman was having her blood sugar tested. She just asked me to hold her baby while she was having her blood sugar tested. That moment, standing in a shanty town, where the homes are made of scrap and cardboard, just thinking what it would be like to try to raise a healthy child there, that for me was a turning point in the urgency in how I treated my work and in understanding the kind of impact Lilly could have on people," said Sousa, who has two kids of her own, ages 6 and 8.
When Sousa and her colleagues came back, they made presentations about their trips for other Lilly employees to hear. They also met with Lilly's emerging markets business teams, to pass on their insights about the opportunities and challenges Lilly faces there in trying to sell more medicines.
Because of those insights from its new approach to philanthropy, Lilly has formed a team to develop business models that would allow it to provide its medicines at affordable prices in poorer areas, yet make some profit doing so.
Linda Heitzman, a former Deloitte consultant to pharmaceutical companies who now is a Project HOPE executive overseeing the clinic in South Africa, noted that Lilly and its Big Pharma peers have always been generous in their philanthropy, but the recent shift in thinking adds a new dimension to their work.
"There's almost this social investing mind-set that says, 'I'm going to teach people to take care of their diabetes better, and that is not only good for them, at some point down the road, that might be better for me as well," Heitzman said. "Most people got into this industry because they wanted to have a positive impact on the world."•
 
Please enable JavaScript to view this content.