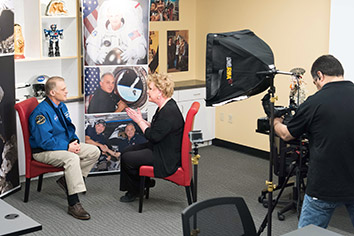 The people behind locally produced "Pet Pals TV" launched a television show last month aimed at central Indiana baby boomers. "Boomer TV" is off to such a fast start, the show's creators already have an eye on taking it national.
The brains behind "Boomer TV" are former longtime WISH-TV Channel 8 anchor and "Pet Pals" co-host Patty Spitler, Indy Boomer magazine publisher Mary Pat McKee and "Pet Pals" CEO Ramon Carrera.
The idea for the show was born when McKee's magazine did a profile on Spitler for Indy Boomer last July.
After the interview, Spitler commented that the magazine should be made into a TV show. Planning began a couple of months later.
"Boomer TV" premiered March 1 on WISH with an episode featuring interviews with basketball icon Larry Bird and Ty Pennington, former host of ABC's "Extreme Makeover: Home Edition."
"Boomer TV"'s first episode reached 22,000 households, a local mark it took "Pet Pals" five years to reach.
During the first Sunday the show aired, it was the second most watched non-news show on WISH, according to New York-based Nielsen Media Research.
The first episode of "Pet Pals"—which aired on Comcast On Demand—didn't even reach 1,000 households, Spitler said.
"We were thrilled with the way this program launched," she said. "I think the strong start shows we have something unique and we're targeting an audience fewer and fewer shows are going after. Boomers aren't quite done living just yet."
Subsequent episodes have featured interviews with Emmis Communications Corp. CEO Jeff Smulyan and astronaut David Wolf.
The show is aimed at viewers 50 and over and will cover topics such as health, fitness, business, finance, travel and entertainment.
"We're not '60 Minutes,'" Spitler said. "It's a lifestyle show. We're there to provide advice, information, entertainment and to be a fun show. We're like 'CBS Sunday Morning' for boomers."
Spitler said the crew's experience growing "Pet Pals," which launched in 2009 and is now broadcast on 24 stations in 12 states, helped "Boomer TV" get off to a smooth start.
The early success already has Spitler thinking of expanding the franchise.
"I think we should stay local for a while, but the response has been so fantastic, we're thinking maybe we should take this national," she said. "We'll see."
"Pet Pals" didn't start expanding to other stations and markets until four years after it launched.
"The challenges with taking a show national is that you can't be hyper-local and you can't be quite as timely," said Spitler, who does not take a salary.
The show's producers buy time from WISH and are in charge of selling advertising during the show to recoup expenses.
McKee, who began publishing Indy Boomer magazine in 2010 and leads sales efforts for "Boomer TV," said she expects the show to break even within six months.
That's dog years ahead of "Pet Pals." Spitler said that enterprise lost more than $100,000 its first year and tens of thousands more in its second year.
Already, McKee has inked deals with Franciscan St. Francis Health, American Senior Communities, Relay Indiana, Roberts Camera and Royal Spa to advertise on "Boomer TV."
Kerrie Henderson, president of locally based KH Complete Advertising, said the show's audience will be attractive to insurance, finance, automotive, furniture and health care companies.
"The boomer audience is still a very attractive audience to advertisers because they're educated and affluent," she said. "If you have a show drawing baby boomers in significant numbers, and there's a great mass of them to draw from, you're definitely going to draw advertiser interest."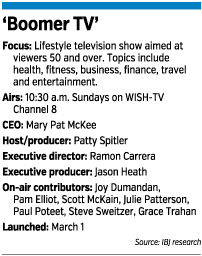 But there are challenges for independently produced TV shows. More than four out of five die within three years of launching, according to Nielsen Media Research.
"The biggest challenge is the economics," said Tom Cochrun, former news director at WISH and longtime anchor at WTHR-TV Channel 13 who also headed up locally based video production firm Nineteenth Star for nine years. "It's always difficult for an independent because you have less peripheral support.
"If you're an independent, you have to pay for everything. They have no production arm, no sales staff or anything," added Cochrun, who produced TV shows for The Discovery Channel, Animal Planet, TLC and The Travel Channel.
But Cochrun said Spitler gives "Boomer TV" a better chance to thrive than most independent shows.
"Patty is a much-beloved figure in central Indiana. People really like her, and that's a good start," he said.
Spitler, who spent 23 years as a news anchor and entertainment reporter for WISH, isn't the only on-air personality on "Boomer" with a local brand. The staff has a combined 300 years of experience, Spitler said.
On-air contributors include former WISH reporters and anchors Joy Dumandan and Pam Elliot, former WISH entertainment reporter Scott McKain, former radio personality and WISH traffic reporter Julie Patterson, former TV weathercaster and current WZPL-FM 99.5 morning team member and "Pet Pals" co-host Paul Poteet, former WISH chief photographer and news operation manager Steve Sweitzer, and former WRTV-TV Channel 6 anchor Grace Trahan.
"All the on-air people have a huge following, and that's really helped us get off to a strong start," Spitler said. "And I don't have to stand over them. They know what they're doing."
"Boomer TV" staffers—with the exception of Spitler—are getting paid, but not much right now.
"They're not paying their mortgage with what they get," Spitler said.
Spitler and her group plan to produce 26 episodes of "Boomer TV" annually, along with 26 episodes of "Pet Pals." "Boomer" costs "a four-figure sum" per episode to produce, Spitler said.
The show's producers are relying primarily on grass-roots marketing and social media to promote the show, as well as using McKee's Boomer Indy magazine, which has a free circulation of 12,000, but is set to expand to 35,000 in May.•
Please enable JavaScript to view this content.