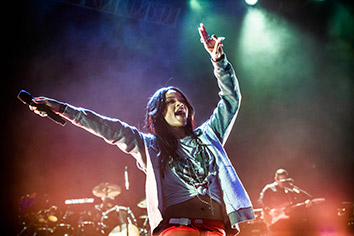 Let's start at the end. At 2:30 last Tuesday morning, the shakers and movers of Indiana Sports Corp. sat around a table at the JW Marriott. Happy. Relieved. Exhausted.
The Final Four they hosted had ended three hours before, with Duke a champion again, and Indianapolis a winner again. Record attendance, boffo ratings, happy visitors, lots of applause. But it had been a struggle, with tense moments, tough obstacles and unexpected adversity. Not only for the Blue Devils, but Indy.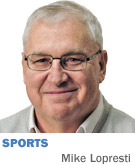 "We looked at each other and just sort of said, 'well, we did it,''' said Ryan Vaughn, the president of Indiana Sports Corp.
Yes, they did. But what a week it had been. For this was the Final Four that very nearly blew up in the face of Indianapolis, not because of an organizational glitch or venue mishap, but a piece of incendiary paper born at the state capitol, just down Washington Street from that hotel table. Something called the Religious Freedom Restoration Act.
Local organizers had worked hours to be prepared for nearly any Final Four contingency, from severe weather to security breach. But a political firestorm that went national in a nanosecond?
"It wasn't on my list,'' said Susan Baughman, senior vice president of strategy and operations for Indy Sports Corp.
But this is how they pulled it off …
By the Sunday before the Final Four, Vaughn understood his group faced a crisis. Gov. Mike Pence had signed the RFRA three days before, and it had quickly turned into a public relations mushroom cloud over the city of Indianapolis.
Boycotts of Indianapolis were quickly called for. Conventions were canceled. The NCAA spoke of dire consequences. All this one week before the Final Four. Just when Indianapolis was scheduled to step back out on center stage where it had performed so well, the city had suddenly been cast as an undesirable.
"My first inclination was the day after the governor signed the bill,'' Vaughn said. "Just the onslaught of statements from people around the country that were very negative about Indiana. I knew we had an issue that I needed to understand more and get engaged on.
"I lobbied the General Assembly for a number of years and I don't recall—and I spoke to many legislators who don't recall—an issue becoming so intense so quickly, and demanding so much attention immediately.''
By noon that Sunday, Vaughn sent an email to a number of local organizations, asking if any would be available by 5 o'clock that evening for an emergency meeting. "To a person, everyone showed up.'' he said. "I think everybody was pretty overwhelmed with the magnitude of the national response.''
They met in the Indiana Sports Corp. conference room on the 12th floor of the Pan Am Building. Not far away, signs were up on Lucas Oil Stadium shouting about the Final Four. And now there were voices calling for that Final Four to be yanked away, 72 hours before the teams arrived.
They went around the table, 25 people from places such as Visit Indy and the Indy Chamber, all sharing thoughts on how their world had been turned upside down so quickly.
Vaughn: "We were just trying to get our hands around the scope of what the real concerns were, and really a recap of the legislative process. How did we get here?''
Baughman: "Surreal is a good word, I think. It was overwhelming how many groups were there and how deeply they felt about the issue. All of us, we just hated for anything but a positive connection to be placed with Indianapolis and Indiana, because for so long, we had been known for being hospitable. The fact that it could be any other way was hard to accept and take in.''
But a damage control plan was laid. "It became very clear that two things had to happen,'' Vaughn said. "We needed to tell our story more effectively about who we are. From that was born the Indy Welcomes All campaign. But we also had to effect some sort of legislative change in pretty short order, and that was going to take an enormous amount of time and effort and energy.''
Vaughn looked around the room and found a group of people "ready to set aside their day jobs for the better part of a week,'' to get something done. Said Baughman, "I was impressed with all the people willing to come together and spend a concentrated investment of time to make a difference in just a few days.''
But these were dark hours, as the national furor exploded. Baughman remembers reading Twitter and other social media attacks on her city and her event.
"For me, it was a pretty big pit in my stomach, and I think a lot of people felt that way. It's been nothing but a positive image for Indianapolis that has been worked on for years by so many people; to be the one that lives up to commitments and to be the place where everybody has the greatest time ever because everyone is so nice and makes them feel special. I think the worst of it was that all those years of investment and work by so many people would be tarnished by the perception of what was going on.
"You're doing everything you can to make this the most awesome Final Four they've ever seen, and to even consider that they would not want to be here again is pretty damaging as you're trying to get through the event.''
Vaughn: "The low spot was just the national onslaught of all the media, and recognizing the enormity of the task we had to accomplish in five days.
"We had 2,200 volunteers working on this Final Four whose purpose is to be hospitable and helpful. And having that volunteer effort called into question, I'm sure, was challenging for them as well.''
The Indiana Sports Corp. people who attended the meeting went their separate ways afterwards; Vaughn to the capitol to work on the legislative attempt to change the bill, Baughman to getting the city ready. But tick … tick … tick. The Final Four was nearing.
"I believe if not all, the vast majority of [legislators] were caught off-guard by the reaction to this,'' Vaughn said. "I always felt like there was a sense of cooperation and willingness to address the issue, so I was never worried something wasn't going to get done. It was just if what we were doing was sufficient to prove who we were.''
And was there time?
Meanwhile, Baughman rallied her army of workers.
"Our volunteers started on Monday at noon, so we had a lot of things that needed to go well regardless of the political side, and what was happening. I tried to convey the message to our volunteers and staff to buckle down, get your work done, and don't allow yourself to be distracted by what's going on outside, because that is going to be handled by another group of people.
"We needed to make sure our operational phases were going well. Most of us took on a challenge to make this so good, they're going to have to want to come back.''
By Wednesday, a corner had been turned. At the statehouse, an RFRA fix was in the works. The teams were arriving. The city was ready. Baughman remembered waking up Wednesday to find people tweeting out photos of friends and family posing by the Indy sculptures. "I felt a little bit lighter when I saw those,'' she said. Vaughn checked in on social media and found that "Indy Welcomes All" and "I Love Indy" were trending ahead of "Boycott Indy" and "RFRA."
Then the amended bill was passed and signed the next day.
"My experience tells me an issue is over when it's signed. Which wasn't the case here. This issue kind of started when it was signed,'' Vaughn said, meaning the original bill. "I felt good when the governor signed the amended language. That was probably the point I exhaled.''
Added Baughman, "Once the teams get into town, it takes on a life of its own. Happily we got great teams and great administrators and I think the general message from them back to us was, 'We're ready to play, let's get on with it. Let's sort of table this for the moment.' It felt pretty good for everyone to focus on what March Madness is all about."
We had our own version of March Madness.''
Vaughn again, "I went from spending all day every day on the issue, to not talking with anyone at the statehouse or governor's office for five days. It was all about the Final Four. What I thought I would be doing, let's put it that way.''
The music festival was so popular, the gates had to be closed two nights. The Fan Fest nearly drew 77,000 people, a record. The games were riveting, from Wisconsin's upset of Kentucky to Duke's championship. Downtown was alive. All's well that ended well.
Is it over?
There are always more bids to make and more events to lure. The reality is that the controversy got many more headlines than its solution, and some perspectives might still need to be changed.
"The fix never gets as much press as the problem, right?'' said Vaughn, who added that in the near-term, Indianapolis will have to deal with RFRA head-on when courting groups. "We'll lean into it and share with them how this issue popped up and how we were able to address it successfully. Certainly there's some work on our part that needs to continue. But as far as long-term damage, the Final Four did more to improve our reputation than this did to hurt it.''
And there are plenty of Indy Welcomes All shirts as a legacy.
"I'm wearing it right now,'' Vaughn said.•
__________
Lopresti is a lifelong resident of Richmond and a graduate of Ball State University. He was a columnist for USA Today and Gannett newspapers for 31 years; he covered 34 Final Fours, 30 Super Bowls, 32 World Series and 16 Olympics. His column appears weekly. He can be reached at mlopresti@ibj.com.
Please enable JavaScript to view this content.