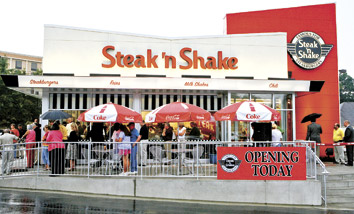 NEW YORK—The Minnesota-based investors who tried unsuccessfully to oust Sardar Biglari from atop Steak n Shake's parent company had hoped their campaign at least would serve as a wake-up call that led to better corporate governance in the future.
It didn't work.
Biglari was combative and not the least bit contrite Thursday during the Biglari Holdings annual shareholder meeting in New York City. When an investor asked whether the proxy fight—spurred by what the activists called egregious corporate governance practices—would lead him to do things differently in the future, he bashed the attackers as being clueless.
"There are more idiots in the stock market than I previously thought," Biglari said. "And I had low expectations."
Minnesota-based Groveland Capital had hoped to win over enough fellow shareholders to elect its own slate of six directors, replacing the 37-year-old Biglari and the other five incumbents.
The activists said drastic action was needed based on the stock's underperformance, the company's declining profitability, strained franchisee relations and poor corporate governance—including an unusual arrangement that allows Biglari to earn tens of millions of dollars in fees managing company assets. His total 2014 compensation was $35 million.
Biglari, a Warren Buffett devotee from San Antonio, gained control of Indianapolis-based Steak n Shake in 2008 following his own activist campaign. He renamed the company for himself and turned it into a holding company. In addition to the burger chain, it now owns Western Sizzlin, an insurance company, the Maxim men's magazine and a big stake in Cracker Barrel.
Biglari told shareholders the discount-pricing strategy he implemented at Steak n Shake pulled the chain out of a tailspin and turned it into a juggernaut. He said Steak n Shake and Chipotle are the only two publicly traded restaurant chains that can boast 25 consecutive quarters of increasing same-store sales.
Before he took charge, "the chain was going to become a footnote in the history of American brand names," Biglari said.
He also defended the performance of other parts of the company and said the short-term ups and downs in the stock market are an imperfect measure of the long-term value he's building.
Biglari said it's not surprising he's drawn critics "because we do a lot of things differently. … It's the cost of being an unconventional company."
It's not clear how close Groveland came to pulling off its coup. At the meeting, Biglari Holdings said preliminary results showed all incumbents had won but that a final tally wouldn't be available for a few days. In a press release later in the day, the company went further, saying all existing directors had been "overwhelmingly" re-elected.
Groveland, a hedge fund with $25 million in assets, faced stiff odds because it owns a mere 0.2 percent of the stock. Sardar Biglari, on the other hand, had far more clout. One of the controversial governance arrangements allows him to vote 19 percent of the shares, even though he directly owns just 1.5 percent of the stock.
Even so, Groveland officials said they nearly won over enough heavyweight investors to prevail. Affiliates of billionaire investor Mario Gabelli, which own nearly 10 percent of the shares, slid into Groveland's corner. (Gabelli told IBJ earlier in the week he considered Biglari's voting of shares he doesn't own to be "stuffing the ballot box.") But two other big investors that did not cast their votes until this week—Blackrock Inc. and the Vanguard Group, which together own 13 percent—ended up siding with incumbents.
"If a few shareholders or a few institutions had changed their minds, it would all have been different," said Nick Swenson, 46, Groveland's CEO.
Groveland's campaign suffered a huge setback earlier this month when Institutional Shareholder Services—by far the most influential firm in advising investors on how to vote on proxy matters—refused to back any of Groveland's candidates. It agreed governance was a mess at Biglari Holdings but said Groveland's slate was too inexperienced and its plan to run the company too sketchy.
ISS was critical of a 2013 deal under which Biglari licensed his name to the company for 20 years. He won't receive royalties if he remains atop the company, but if he were forced out for anything but malfeasance, he'd receive 2.5 percent of sales for five years—a sum that could surpass $100 million.
The advisory firm also took aim at a convoluted corporate structure through which Biglari Holdings has shifted more than $600 million in assets into the Lion Funds, investment vehicles controlled by Biglari himself.
At the annual meeting, Biglari was curt when shareholders quizzed him about the propriety and purpose for such arrangements. "There is no self-dealing. Next question," he said at one point. "There isn't a conflict of interest. Next question," he said at another.
But most of the more than 100 shareholders who crowded into the meeting room at the St. Regis Hotel were there because they believe in the entrepreneurial, unconventional Biglari, not because of concerns raised by Groveland.
The meeting ran nearly six hours because Biglari has a policy of making public comments just two times a year—in an annual letter to shareholders in December and at the annual meeting, where he fields questions until shareholders have no more.
By the final hour, most of the two dozen or so shareholders still in the room were devotees. With most of his critics gone, Biglari spoke even more sharply about Groveland's attacks.
"There were plenty of hit-and-run arguments," he said, calling them "utter nonsense. It was silly."
Biglari added: "On a personal level, I enjoyed it, because I enjoy battles."
Please enable JavaScript to view this content.