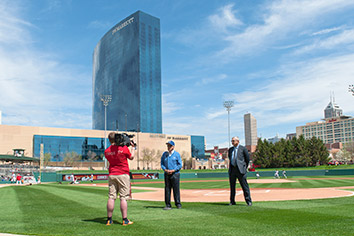 Fifty-six years after his last pitch, Carl Erskine still looks great in Dodger blue.
There he was the other day at Victory Field—in a Brooklyn cap and Dodger sweater.  Time to tell some baseball stories. Besides, what other 88-year-old guy do you know who gets invited to play his harmonica in public, is approaching his 68th wedding anniversary, and can tell you about the time Jackie Robinson saved his no-hitter?
Erskine remains Anderson's gift to the Dodgers' Boys of Summer: The curveball craftsman who won 122 games through Brooklyn's glory days, then retired at 32, and came back home to Indiana for good.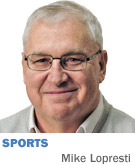 That Brooklyn cap on his head at the Indians game for Jackie Robinson Day? He has maybe six left. He used to have the uniforms from all his World Series—six whites and six grays—and stored them in the back of his closet. But he kept giving them away, until there were none, and later found out they'd be worth upwards of $10,000 on the collectors' market.
"That would be better than my 401(k)," said Erskine, who did all right in Anderson as the owner of an insurance company and bank president. Certainly better than he did as a player. His first Major League season with the Dodgers, he earned $5,000. Some of today's prized arms get paid that much per pitch.
Jackie Robinson days
But how priceless to live stories such as these? Jackie Robinson is a legend and a retired No. 42 on the ballpark wall to most people. To Erskine, he was a friend.
"It was May 12, 1956, Saturday, and I was pitching against the Giants. My arm had been giving me some trouble. I got to the ballpark and on the trunk in the clubhouse was a New York newspaper. The headline said, 'The Dodgers are over the hill.' The sub headlines said, 'Robinson is too old, Campy [Roy Campanella] is too heavy, Erskine can't win with that garbage he's throwing.' It quoted Tom Sheehan, who was the scout for the Giants.
"About the fourth or fifth inning, Willie Mays comes up and Jackie's playing third base. Mays hits a shot to Jackie's left and Jackie makes a fantastic pickup of the ball and throws Mays out easy. That was the only almost-hit the Giants got.

Erskine
"When the game was over and I had pitched a no-hitter, Jackie ran over and shook my hand, then ran back to the third-base side where the Giants dugout was. Sheehan was sitting next to the dugout and Jackie took the clipping out of his uniform pocket and waved it and said, 'How do you like that garbage?' Of the three guys Sheehan had been quoted about, Campy caught the game, Jackie saved the game, and I pitched it."
Or there was this day in 1948, when a young Erskine pitched a scoreless five innings for the Fort Worth Cats in spring training against the parent club, the Dodgers.
"After the game was over, I hear this voice: 'Where's Erskine?' Jackie had come across the field to our dugout and asked for me by name. I stepped out of the dugout and he said, 'Young man, I hit against you twice today and you're not going to be here very long.'
"And that's how I met Jackie Robinson."
By July, Erskine was called up to the Dodgers and joined them in Pittsburgh. Robinson came straight to his locker. "'I told you," Robinson said, "you couldn't miss."
Grace under pressure
Not all the stories were so nice. Erskine also remembers the days Robinson would win a game for the Dodgers, then have to go to his own hotel. Or the night in Atlanta the Ku Klux Klan picketed the team bus.
"The most remarkable thing was how he was able to contain himself and take the heat he took," Erskine said. "Jackie had his fist doubled up all the time, but he'd never throw a punch."
The kid from Anderson couldn't understand any of the abuse. He grew up with a star athlete named Johnny Wilson as a close friend, and they used to go to the movies and sit together in the balcony of the Anderson theater, because Wilson—who is black—was not allowed to sit on the main level.
"We didn't know anything about civil rights," he said. "Johnny was our buddy."
It was all a long time ago. Erskine said he is still amazed how often he hears from people, wanting to know more about the Boys of Summer. Long after he retired, the New York writers gave him an award that honors unnoticed feats lost to history. Did you realize Carl Erskine is the only pitcher to throw two no-hitters in batter-friendly Ebbets Field? He didn't, either, until they told him.
Life has been good. But wonder how different it would have been had he not been bouncing curves in the bullpen on Oct. 3, 1951?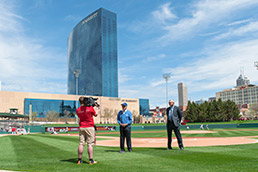 Retired Brooklyn Dodgers pitcher and Anderson native Carl Erskine spoke to Indianapolis Indians fans on Jackie Robinson Day April 15, about his famous teammate. (IBJ Photo/ Eric Learned)
It was the ninth inning of the winner-take-all playoff game between the Giants and Dodgers. Brooklyn had two pitchers warming up, and when Manager Charlie Dressen called the bullpen, all Erskine could hear was pitching coach Clyde Sukeforth answering, "Erskine's bouncing his curveball occasionally."
So Dressen called for the other pitcher. Fate had chosen Ralph Branca as the man to throw Bobby Thomson's home run, then live a lifetime with the infamy. Erskine and Branca still talk often, but not so much about that day.
"In a way," Erskine said, "I can say probably the best pitch I ever threw was that curveball in the dirt."
A deeper connection
More than six decades removed from his baseball career, he remains active, and is even known to take his beloved harmonica and play national anthems at sports events, including Indiana Pacers games. His highlight was a musical return to Dodger Stadium.
"A 45,000-person gig," he called it.
The past with Robinson is precious to Erskine for another reason. His name is Jimmy. He is the youngest child of Carl and Betty Erskine, and was born in 1960 with Down syndrome. His father understood the battle ahead in breaking down barriers. He had seen a teammate go through something like it.
"It shows there is a parallel, even though it comes in such different ways," Erskine said. "When Jimmy was born, there were no services. The term used was 'Mongoloid,' which is kind of a harsh term. That sort of reflects society's take on somebody then who looked that way. Betty and I were never embarrassed about Jimmy. We had three healthy kids and they were great with him."
"Through the years, slowly, Erskine would see society more accepting of Jimmy. Just as it had grown more accepting of Jackie Robinson. In his mind, one had given a boost to the other, in showing a blind world the way to understanding.
Jimmy is 55 now, and will soon compete in his 45th Special Olympics.
"To me, the evolution of all Jackie went through is playing out today," Erskine said. "I say when Jimmy gets a gold medal in the Special Olympics, Jackie had something to do with that. Is that a reach or not?"
Who knows? Who cares? It is real enough for the man in a Brooklyn Dodgers cap, with such a lifetime to remember. He'll be back in Victory Field June 13 to sign autographs. For Carl Erskine, it is always good to be at the game.•
__________
Lopresti is a lifelong resident of Richmond and a graduate of Ball State University. He was a columnist for USA Today and Gannett newspapers for 31 years; he covered 34 Final Fours, 30 Super Bowls, 32 World Series and 16 Olympics. His column appears weekly. He can be reached at mlopresti@ibj.com.
Please enable JavaScript to view this content.