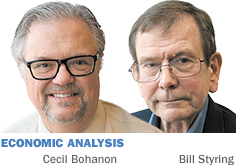 All of us want better schools for our kids. But beware of how to get there. More money isn't the answer.
"You get what you pay for" works most of the time in the private marketplace. More expensive products generally reflect higher quality. More money gets you out of a Yugo and into a Mercedes. Most of us prefer filet mignon to pork neck bones.
In the government sector, the price=quality equation breaks down far too often. Lobbying skills and political clout of constituent groups drive appropriations. And how often do we see our politicians reward government failure by a shower of more money as a show of "fixing" the problem?
A case in point: Some 10 years ago, a bipartisan Government Efficiency Commission was asked to survey Indiana government. Since public schools consume over 40 percent of the general-fund budget, the commission spent a lot of time trying to figure out how to get more bang for the education buck. How can we spend so that Indiana Johnny and Jills learn more?
Its findings were astonishing and also buried because they embarrassed too many people. Using some highly sophisticated statistical techniques, the commission found that, within the ranges seen in the real world, spending more per pupil or cutting pupil-teacher ratios made no difference. That's after controlling for a slew of socioeconomic variables.
It turns out that a close review of the economic literature tells the same tale. Economists have found little evidence of any link between increasing education inputs (money, people) and kids' learning more.
That doesn't mean extreme changes can't make a difference. If we were to spend zero on public schools, something bad would happen. No government schools.
If we spent huge sums—enough, say, to put a Socrates one-on-one with every student—something good would likely happen. But these extremes aren't going to happen. The supply of Socrates went out with hemlock.
So if you're not happy with our schools, don't look to simply spending more as any kind of solution. All we'll get is more expensive schools.
Here is a modest suggestion: Put spending on government schools on automatic pilot. Increase it every year by the cost of living plus 1 percent adjusted for total enrollment. This way, taxpayers and school administrators would both gain. A stable but prudent K-12 budget is a win-win for all.•
__________
Bohanon is a professor of economics at Ball State University. Styring is an economist and independent researcher. Both also blog at INforefront.com. Send comments to [email protected]
Please enable JavaScript to view this content.