When ExactTarget alumnus R.J. Talyor joined Geofeedia last October, he spent most days working virtually from the basement of his Indianapolis home. On other days, he made the roughly three-hour commute to the startup's Chicago headquarters in his black 2009 Nissan Xterra.
Talyor, 36, didn't mind that arrangement. After spending 10 years helping scale ExactTarget into a global tech firm, he wanted to do it all again but didn't want to move. Geofeedia, a high-growth social media analytics upstart, was the right fit—even with the long commute.

Talyor
Now, the company is coming to him. Geofeedia opened an Indianapolis office last December, which now hosts 26 of its 45 employees. It recently committed to adding 336 more Indiana workers by 2020 in an economic development deal with the state.
The company might even move its headquarters here, CEO Phil Harris said.
"We thought about it, and it seems like a good opportunity for the company, especially given this latest announcement with the state," the former Priceline.com executive said. "It's a good opportunity that we're evaluating."

Harris
That possibility was hardly even pondered last fall. But the tides turned, executives said, after the company signed on Talyor, who's vice president of product management, and Wes Antrobus, another ExactTarget alum, who's vice president of inside sales.
Shortly thereafter, Geofeedia stumbled upon fertile soil in Indianapolis for growing a tech company.
Geofeedia has an intelligence platform that allows organizations to monitor social media activity in specific locations. It's used by the likes of CNN, the Mall of America and the Los Angeles County Sheriff's Department for a range of purposes, including gathering news, tracking customer sentiment and fighting crime.
With about 400 clients, the firm bills itself as a pioneer in the space.
Geofeedia launched in Florida in 2011 and moved to Chicago the following year. It had five employees in December 2013, spending the first few years building out its patented platform. Adding sales and marketing employees helped the company generate more than $3 million in sales in 2014, a nearly tenfold increase from 2013.
Harris said he and co-founder Mike Mulroy were looking for experienced managers to lead product development and sales for about a year before they discovered Talyor and Antrobus through professional acquaintances. Soon thereafter, the company posted openings in Chicago and Indianapolis, and about two-thirds of the applicants came from Indianapolis.
"There was a ton of interest," Talyor said. "So we decided to get an office here."
Indianapolis boasts one of the fastest-growing tech-talent pools in the country, according to a recent survey by international real estate brokerage firm CBRE. The number of tech workers here grew 23.7 percent from 2010 to 2013, the report said, a pace that ranked Indianapolis No. 5 among cities with fewer than 50,000 tech workers.
Big deal
About the time Geofeedia opened an office at Circle Tower on Monument Circle, Harris said, several former and current ExactTarget employees encouraged his team to make Indianapolis its largest location. They also suggested he reach out to the city and state for partnership opportunities.
After more than three months of negotiations, Geofeedia and the Indiana Economic Development Corp. announced one of the biggest job-creation deals this year, in which the company would add 336 jobs in exchange for $4.4 million in tax credits.
As executives hammered out terms, the company repeatedly outgrew office space. It started with about 2,000 square feet. After adding space piecemeal, it now occupies about 3,000 square feet across five suites.
Its main suite is full of three-person pods, workstations of sorts that have low cubicle walls separating employees. The pods weren't bought new, but they're a step up from the card tables Geofeedia used when it opened shop. Talyor said the local office has come a long way from using iPads and feeble Wi-Fi for virtual meetings with colleagues in Chicago.
Even with the company's fast growth, the local office still has that scrappy startup feel. There's no kitchen, but an office closet hosts a portable refrigerator, a Keurig coffeemaker and a microwave—all sitting under an Internet server crisscrossed with blue and white Ethernet cables.
The local tech team works in a suite that used to store old furniture, including a scuffed-up mahogany-and-brass office desk they've opted to keep. No one, including Talyor, has an office. Drawers and file cabinets are hardly used.
Wide appeal
Talyor said people who have expressed interest in working at Geofeedia have fallen into one of three categories.
First, he said, are people who have worked with tech companies like Angie's List, Interactive Intelligence and ExactTarget, which adopted the name Salesforce Marketing Cloud after its $2.5 billion sale to San Francisco-based Salesforce.com two years ago. Talyor said he's encountered a cast of characters just like him, who know how to build tech companies "and are eager to do it again."
Second, he said, are people who have worked for non-tech companies, including Eli Lilly and Co. and Anthem Inc. "[These] are people who may be experts in their fields or they do software engineering for that company and want to transfer into a software startup," Talyor said.
Last, he said, he's seen interest from both in-state and out-of-state college students with "raw talent." The company plans to bring on interns this May, he said.
Alex Hester, a software developer, is among those who made lateral career moves to Geofeedia. Hester used to work for Our Sunday Visitor, a publishing company in Huntington, where he helped develop church-management software. 
"It seemed like a really exciting company, it's a great product, and I see it going places," Hester said. "And even since starting, my opinion of that hasn't really changed."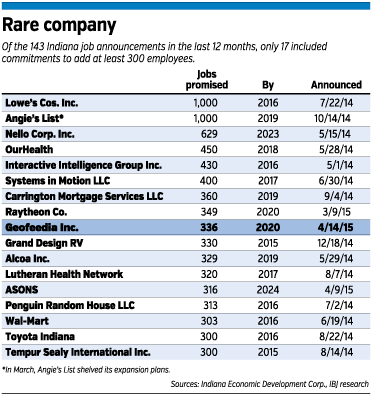 Growth plans
Indianapolis is home to Geofeedia's marketing and product management teams, and has a slice of other teams, including product development. Harris said local hires will work in all departments, and the company expects to have at least 50 employees here by year's end.
The company's existing space is already near capacity, Talyor said, but in a few weeks Geofeedia plans to triple its space by moving into the entire sixth floor of Circle Tower.
The new space, about 9,000 square feet, previously housed administrative operations for Christ Church Cathedral. Geofeedia said the space will have several dozen employee workstations, a conference room and more.
Harris said the company has seen robust interest in its social media platform, even before it scales up sales and marketing.
"The good news is, there's a lot of interest around social media," he said. "It's just, how do we educate these organizations on the value?"
Harris downplayed the risk of selling a product that operates on top of other services, in this case, companies like Twitter and Instagram. He noted Geofeedia compensates those firms and actually makes their services more useful.
"Geofeedia adds value to the ecosystems of all of our data partners," he said.
As the 4-year-old company treks on, Harris said, his short-term goal is to build out the local office in a way that reflects its progressive, merit-based culture. 
The new space can seat up to 70, Talyor said, so at some point, officials will have to add more space for the rest of the 336 jobs they pledged.•
Please enable JavaScript to view this content.