What should we expect if plans go through for the conversion and expansion of the former city hall and state museum into a 21c Museum Hotel?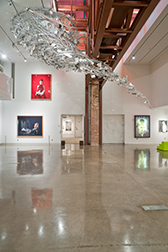 Inspired by a 1974 Louisville tornado, Anne Peobody's "Wheel of Fortune," commissioned by 21c, looms over its central gallery. (Photo courtesy of 21C Museum Hotels)
Judging from a recent trip to the flagship 21c in Louisville, the answer is: an expansive venue housing a mind-expanding array of 21st century work. Also, an anchor for the downtown art scene. Plus, a top-tier (and free) tourist attraction.

Yes, it's that impressive.

The Kentucky locale (700 W. Main St., Louisville), founded in 2006 by preservationists/contemporary art collectors Laura Lee Brown and Steve Wilson, adjoins its 90-room boutique hotel with 9,000 square feet of spacious and open galleries.

Comfortably accessible to visitors (although you might see a sweaty hotel guest en route from the gym to the elevator), this is not merely a room with interesting art on the walls. The multi-room 21c hosts curated exhibitions by established and emerging artists.

Some of the pieces are grand in size. Some stark. Some playful. Some baffling. Some bring jarring themes to a public place.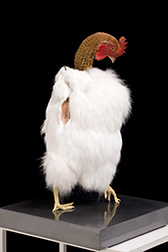 Sarah Garzoni's "Mascarade 3." 21c doesn't focus on "safe" artwork found in most hotels. (Photo courtesy of 21C Museum Hotels)
21c could, for instance, have given "Stealing Base: Cuba at Bat"—presented in conjunction with the right-down-the-block Louisville Slugger Museum & Factory—a prominent spot. Instead, that exhibition is tucked away downstairs, with a more-traveled spot given to such currently exhibited work as French multimedia artist Sarah Garzoni's "Mascarade 3," featuring a taxidermied plucked rooster posed like a fashion model, wearing a zippered white fur coat.

Nearby, American dioramist/photographer Lori Nix makes an overt political statement with her 2000 chromogenic print "Uranium Extraction Plant," showing the imposing building of its title perched atop a gorgeous mountain cape at twilight, with deer seen sipping peacefully from a (presumably polluted) stream below.

This is not the safe artwork one usually finds in hotel lobbies. Not that there isn't some discretion: Carlee Fernandez's "Bear Head Study" series of nude photographs incorporating a bear skin and head are tucked away in a gallery accessible only to those looking for it, rather than on view in a walk-through area. But, throughout, 21c offers the kind of work you might find in contemporary art galleries where the curators know what they are doing and are up on the latest names and trends, instead of trying to find something that looks pleasant above a couch.

As such, it's poised to complement Indianapolis' existing art-focused hotels—The Alexander (with its Indiana Museum of Art-curated permanent collection and branch gallery for the Indianapolis Museum of Contemporary Art); and The Conrad Indianapolis (with its Long-Sharp Gallery featuring "Picasso to Pop", a second-floor "regional masters" semi-permanent show, and high-visibility lobby and hall art).

Unlike those, however, 21c is likely to become an attraction in and of itself.
"Night Hunter" by Stacey Steers, a British collage artist. (Photo courtesy of 21C Museum Hotels)
21c is remarkably varied in its choices. A video assemblage, "Night Hunter" by British collage artist Stacey Steers (with a percussive soundtrack by Larry Polansky), is presented on a large, flat video screen in front of a large, white wall in one of the smaller gallery spaces. No attempt is made to clutter up the presentation by surrounding "Night Hunter" with other works, though there's room on that wall. "Night Hunter" is dark—incorporating images of silent film superstar Lillian Gish into a creepy, newly created melodrama.

Other works of the room lend themselves to more colorful pieces, such as the vibrant cut-paper exercises of Wu Jian'an or the cultural-awareness antiquarian map parody of "Frohawk Two Feathers." Another wall reflects the lightness of darkness around it: These are the "Ghost Portraits" of Andrea Stanislav, with images of Native American faces lightly etched on threefold square glass mirrors.

Video installations and other artwork by the elevators, down what would otherwise be unexciting corridors, and inside the rest rooms enhance appreciation of those areas and what they can mean, as good art can do.

I'm also happy to report an overall esthetic that doesn't do anything to distract your appreciation of its art. In fact, 21c—with its unobtrusive-but-helpful front-desk workers—is decidedly un-pushy. You won't find splashy signage pointing you to other parts of the hotel (although there is a small gift shop).

Happily wandering through this calm space that houses such impressively scaled and provocative themed modem art, I found myself spending far more time there than I anticipated—and leaving even more excited about what 21c will do for Indianapolis.•